Win the Amazon channel
Dominate your segment and maximize your margins.
Integrate with the most trusted API for Amazon insights
Get direct access to the most accurate sales estimates.
Automate and optimize advertising on Amazon
Get unparalleled advertising insights for the Amazon channel.
0
Shares
Brian Connolly
January 26, 2022
Product Research, Selling on Amazon
Sharing is caring!
Online arbitrage is an incredible opportunity to make money on Amazon, without having to leave your home. While the concept of online arbitrage is relatively simple, mastering it can take some time.
Finding profitable products can be time-consuming and frustrating as you compare prices between the endless catalog of online retailers and products on Amazon.
Luckily, there are tools available, free and paid, to help you find those profitable online arbitrage opportunities. Not only will some of these tools allow you to find good deals, but they'll also help you save time and money.
In this article, we're going to go over the best online arbitrage tools for your Amazon reselling business.

Online arbitrage is the practice of purchasing products from an online store at a low price and reselling that same item for a higher price on Amazon or another online marketplace such as eBay or Facebook Marketplace.
You don't need to leave your home with online arbitrage compared to retail arbitrage, where you need to shop in-store to find profitable deals. This business model provides an opportunity for people to make money reselling online, without overhead expenses such as transportation costs and your time.
You don't need much money or experience to sell on Amazon with online arbitrage. With a basic understanding of how arbitrage and selling on Amazon works, you can be successful in making a profit.
As we've mentioned, you can do all of this from home — there's no need to drive to and from retail stores in your area. With online arbitrage, you have endless options to source products on your device.
If you want to learn more about the pros and cons of online arbitrage for Amazon, check out our guide, How to Make Money on Amazon with Online Arbitrage in 2022.

Since we're searching for products online versus in-store, you have easier access to many different types of tools to help you make profitable decisions.
This type of tool automatically sorts through thousands of products on nearly any online retail store you can think of. Simply choose the online retailer and enter your product criteria, and the software will find products you can flip on Amazon for a profit.
This free resource helps sellers find good deals all across the internet. If you find a heavily discounted product on the deal site, check for the same one on Amazon. There may be room to profit if there is a big enough price difference.
A few different Chrome extensions are available for Amazon sellers to help make online arbitrage easier. These include both paid and free extensions.
Many online retailers offer a rebate on purchases using cashback tools. Before purchasing, you must make sure you activate cashback on whichever extension you are using. After your purchase, your cashback will begin to accumulate.
Before purchasing a product to resell on Amazon, make sure you are able to profit from it. Profit calculators will show your potential profit based on your selling price, buy price, shipping costs, and various Amazon fees.
These automatically reprice your products based on other sellers' prices on the listing — so your product stays competitive. Using the tool's settings and filters, you can reprice your listing according to your strategy.
For instance, if you and another seller of the same product list your items at $19.99 and you're happy to compete at that price, your repricer tool doesn't have to make a move. But if the same seller lowered their price to $18.99, your repricer can automatically lower your price to be more competitive, if you set it up to do so.

If you want to be a successful online arbitrage seller, using some of the following free and paid tools can help you reach that goal.
Tactical Arbitrage is sourcing software that automatically finds profitable products from hundreds of online retailers. Simply set your product criteria and let the tool do the work for you. The tool will show you potential profit, current selling price, average price, ROI, profit margin, and much more.
They also offer a free 7-day trial so you can test before purchase.
Cost: $70/month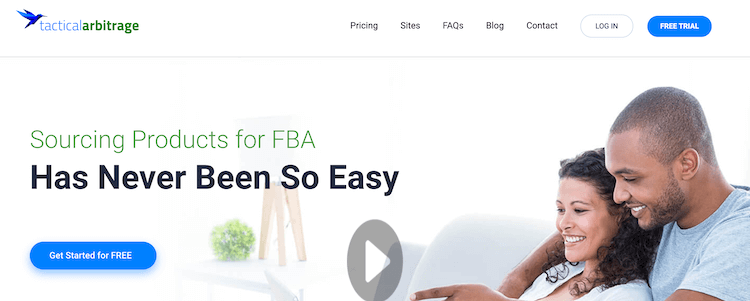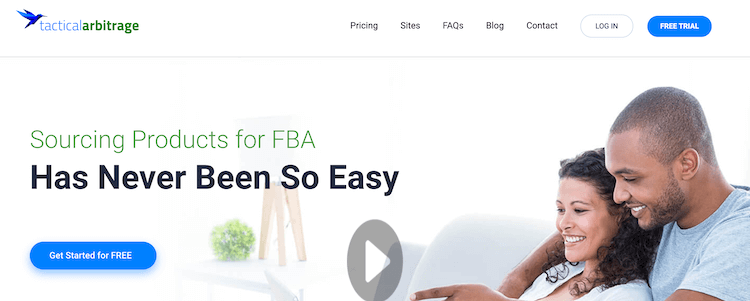 Source Mogul will help you discover profitable products to resell on Amazon. It quickly scans through millions of products and compares their prices to products on Amazon. This tool gives you a real-time analysis of the product's sales, price, and sales rank. With this information, you can be confident in your purchases.
Source Mogul offers a 10-day free trial period.
Cost: $97/month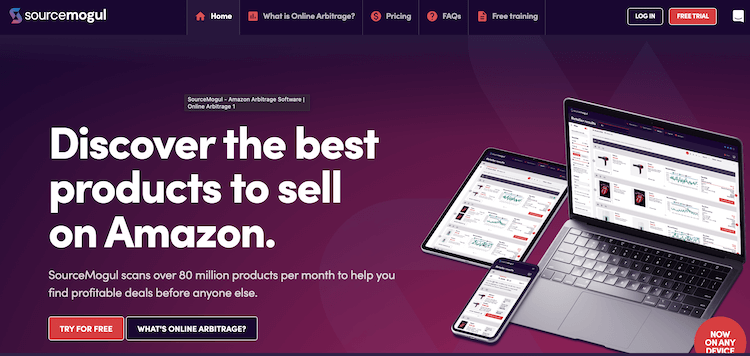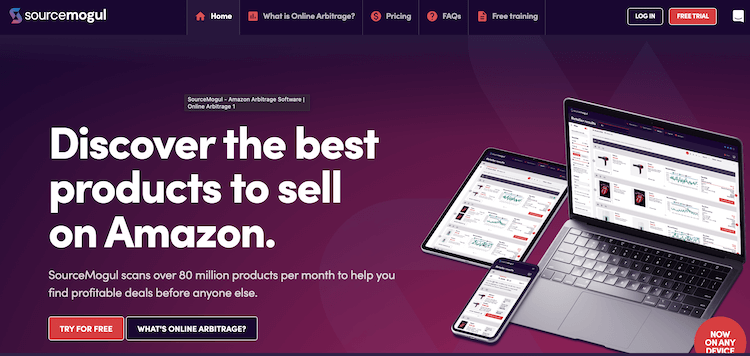 Brickseek shows you in-store and online store deals from many different retailers so you can choose which ones can work best for your business. You can set alerts for specific stores and products, so you're always up to date with the latest deals.
Brickseek offers free membership and a premium membership with added features and access to tools.
Cost: Free to $29.99/month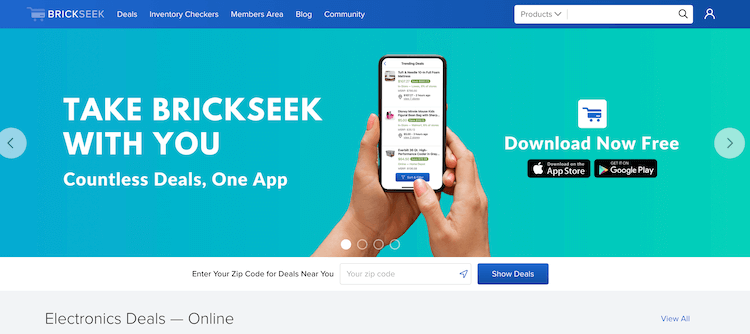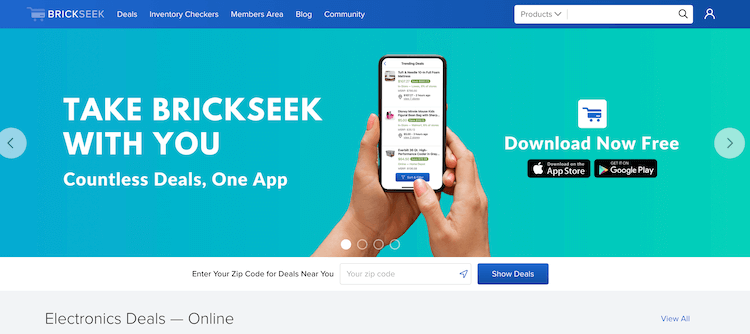 Since you'll be shopping online anyway, it wouldn't make sense not to use a cash-back site such as Rakuten. Rakuten offers cashback on over 3,500 different websites, so you can maximize your ROI when doing online arbitrage.
The best part is, it's free to use. All you need to do is set up an account, download the Chrome extension, and activate your cashback when online shopping.
Cost: Free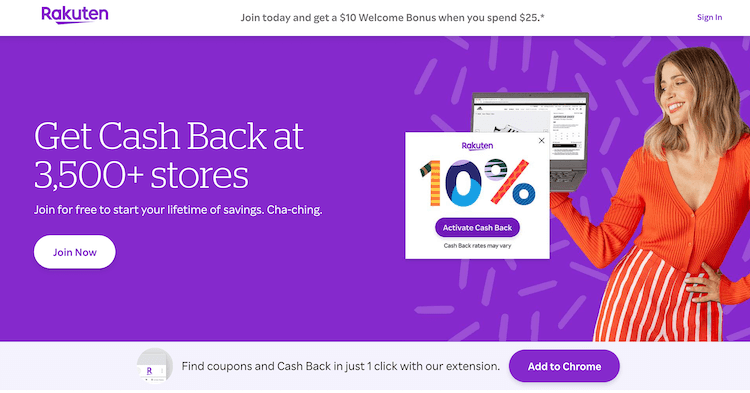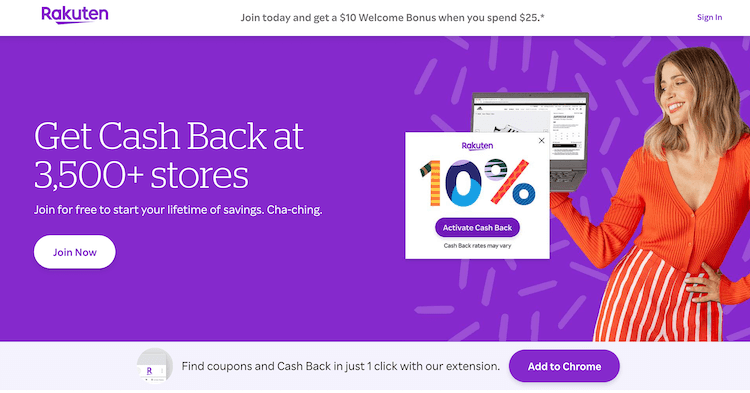 Invisible Hand is a free Chrome extension that searches the internet for the lowest price on whichever product you're looking at. No matter which website you're on, Invisible Hand will notify you if it finds a lower price somewhere else.
This tool is handy when looking at products on Amazon as it will show you the online stores where you can buy the same products for a lower price.
Cost: Free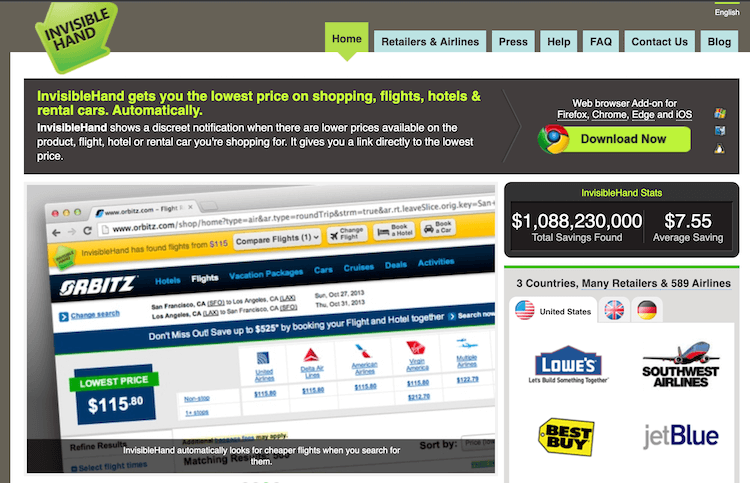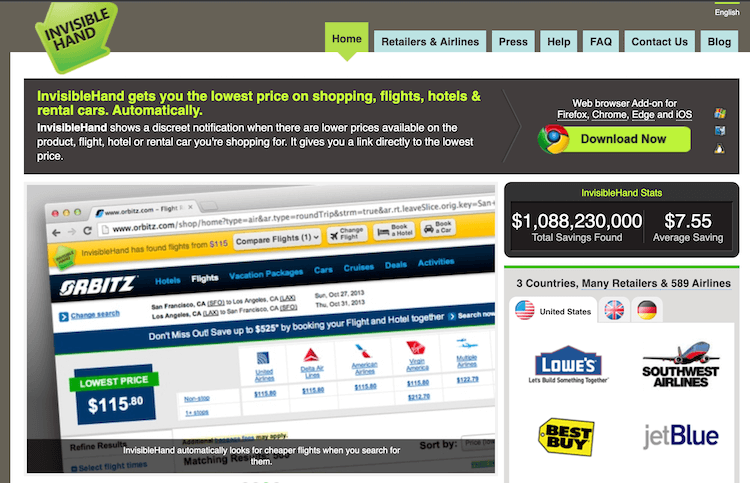 The Amazon FBA Revenue Calculator tool allows you to estimate your profit on any item listed on Amazon. If you are interested in selling a particular item, first enter the ASIN of the product into the calculator. Then enter relevant information such as selling price, buy price, etc.
The calculator will estimate your profit based on the selling price, purchase price, shipping costs, and various Amazon fees.
Cost: Free





The RevSeller Chrome extension works the same as the Amazon FBA Revenue Calculator, except the calculator is displayed on the Amazon product detail page. This saves you time from opening a new window and entering the product information in the Amazon calculator. With RevSeller, all you need to do is enter the selling price and buy cost, and it will instantly calculate profit.
RevSeller offers a 30-day free trial.
Cost: $99/year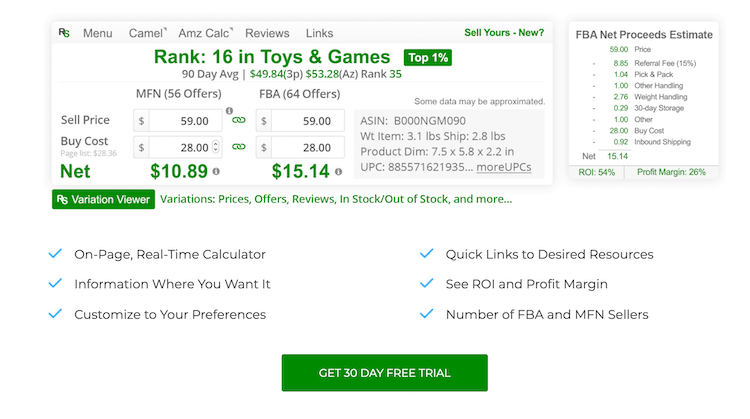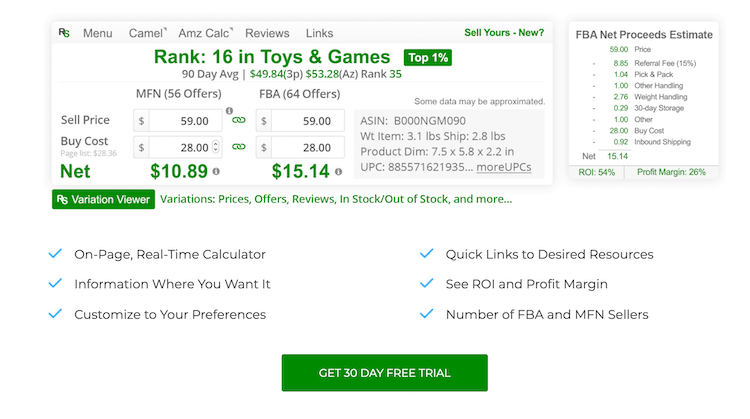 Don't forget about Jungle Scout, the all-in-one platform for selling on Amazon. Jungle Scout has a few different tools to help you source profitable products for online arbitrage.
The Jungle Scout Extension shows you a quick snapshot of a product's performance on Amazon. You can view the product's average monthly sales, average price, and profitability. When you click on the Net price, Extension will bring up a profit calculator to estimate the potential profit on an item.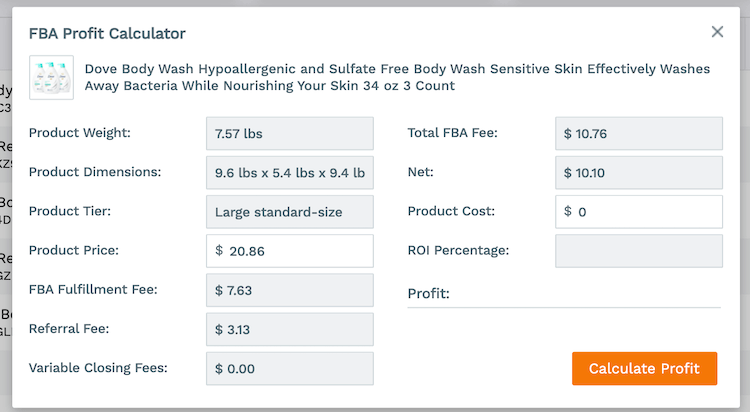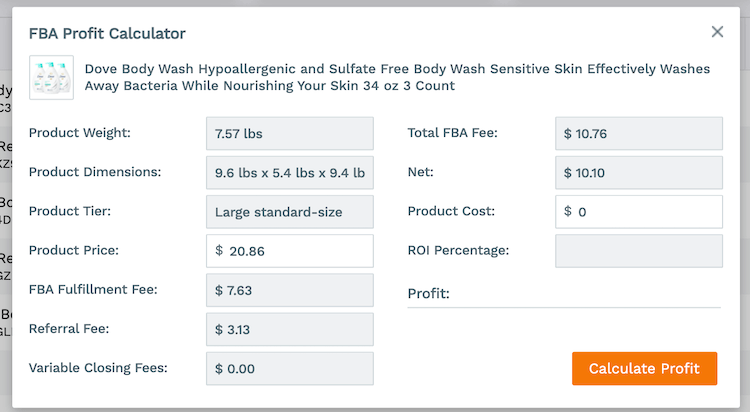 The Extension will also display a graph on the Amazon product detail page right above the title. The graph will display the monthly sales and a historical trends chart. This chart shows historical data points such as Buy Box price, New lowest price, BSR, Amazon's price, daily sales, ratings, and more.
By having access to these data points, you'll make more informed buying decisions when sourcing products to resell.



Product Database can help you find products to sell based on the criteria you enter in the tool. One of its filters can find products according to the number of sellers — which is fantastic for online arbitrage. If you set the tool to show products with multiple sellers, you'll find products that are potential candidates for your business.
If a product listing has multiple sellers on it, that means each seller has found a source for that product — whether through arbitrage or wholesale. If a listing only has one seller, that typically means it's a private label brand whose product you won't be able to source.

This tool will take your arbitrage business to new levels when paired with some of those mentioned above.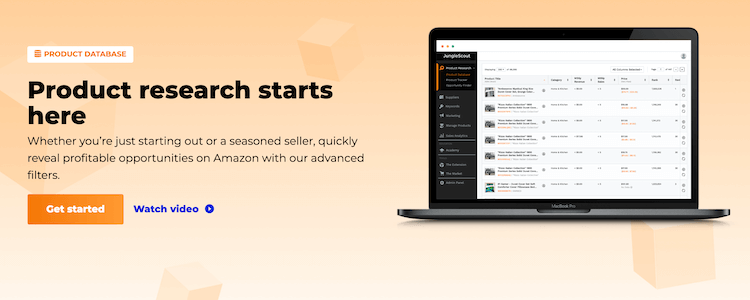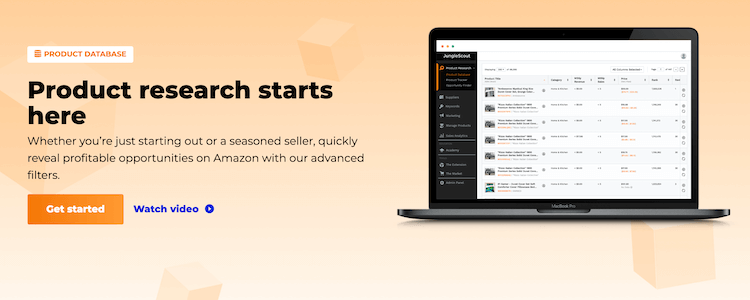 This free Sales Estimator tool offered by Jungle Scout shows your average monthly sales numbers for particular product categories on Amazon. Simply enter the Best Sellers Rank, Amazon marketplace, and product category to view estimated sales numbers.
When sourcing products for online arbitrage, use the sales estimator to get a better idea of how many times a specific product sells per month. With this information, you can estimate how many units you should purchase.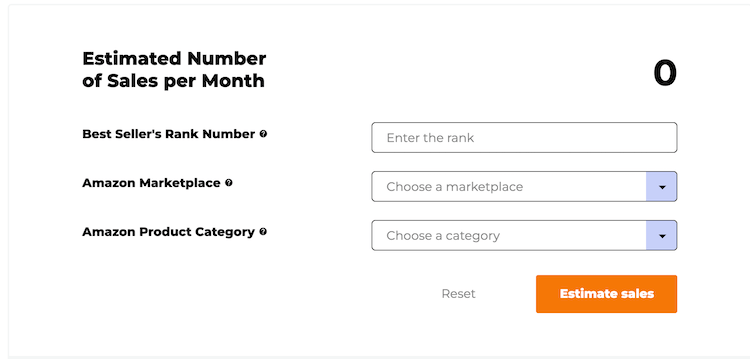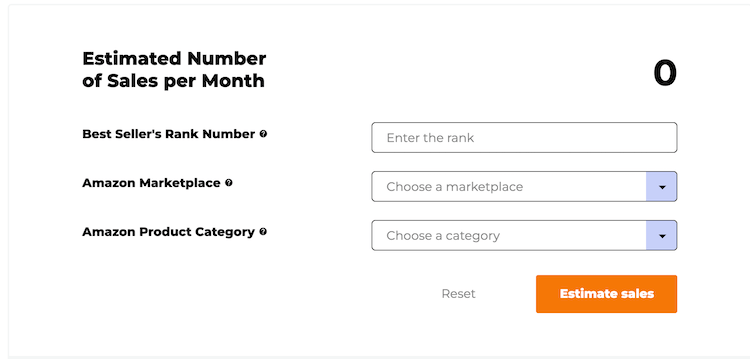 If you are interested in using Jungle Scout for your Amazon business, this is the cost for our suite of tools.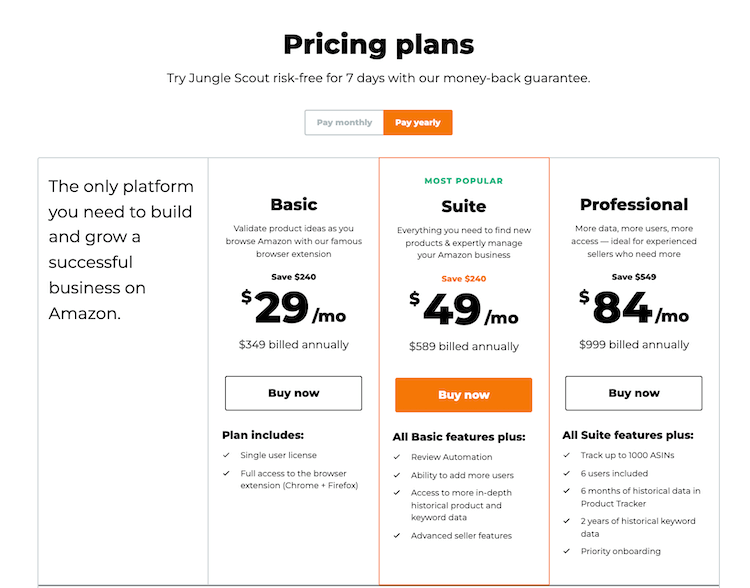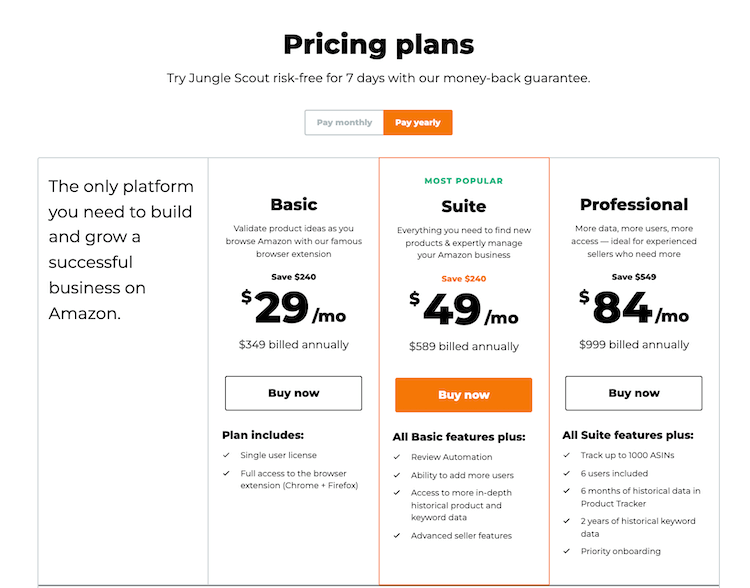 Check out our pricing and plans to understand what each option includes.

When you are equipped with the right tools for the job, finding profitable products to resell on Amazon becomes much more manageable.
We hope this article helps you with your online arbitrage journey by giving you an idea of some of the best tools for this Amazon business model.
You can also check out our YouTube video on How to Sell Arbitrage on Amazon.
If you have any comments or questions, please share them with us in the comments below!
Sharing is caring!
Brian Connolly
Brian is a writer and entrepreneur with over 6 years of experience in e-commerce and selling on Amazon.
local_offer Tags: Product Research, Selling on Amazon
How relevant is Jungle Scout in the Canadian Marketplace
Hi Vic,
Jungle Scout works very well for the Canadian marketplace!
Your email address will not be published. Required fields are marked *




document.getElementById( "ak_js_1" ).setAttribute( "value", ( new Date() ).getTime() );
Need help?
Visit our Help Center
Products
Solutions
Features
Resources
Support and Community
Company
Copyright 2022. All Rights Reserved