Win the Amazon channel
Dominate your segment and maximize your margins.
Integrate with the most trusted API for Amazon insights
Get direct access to the most accurate sales estimates.
Automate and optimize advertising on Amazon
Get unparalleled advertising insights for the Amazon channel.
0
Shares
Dave Hamrick
June 5, 2021
Amazon SEO, Product Research
Sharing is caring!
If you've spent any time researching products to sell on Amazon — or Amazon product niches with high-growth opportunity — you understand that it's like trying to find your way through a maze.
You run into numerous dead ends and false leads. You experience highs and lows, excitement and disappointment. The unknown is often the norm—perhaps that's why 47% of Amazon sellers say finding a product to sell is challenging
It's a worthwhile journey though. Because, in case you haven't already heard, Amazon is the world's largest e-commerce store. Literally billions of people use it every month. In fact, 74% of consumers start their online shopping searches on Amazon.
So, if you want a great place to find out whether or not people want to spend money on a particular niche, Amazon's data is where you want to look. (If you'd like to learn more about selling on Amazon, we've got a ton of free content based around just that topic.)
And that's what we're here for: to help you learn how to find profitable Amazon product niches on your own.

A niche is a smaller, specialized subset of something. It can be a group of buyers, a type of product, a genre of books or film, etc., and as an e-commerce business owner and marketer, it's important to understand the value of niches.
While larger categories of a specific market or group may have more sales, they also come with more competition. Meanwhile, niches present pockets of opportunity with less competition.
For example, let's say you're interested in creating content and products around health and fitness. If you try to get into the broad category of "Health & Fitness," you'll soon find yourself butting against big competition.
But if you go deeper into the broad category, the competition starts to fall away.
From Health & Fitness, you can focus on a market segment like yoga. But even yoga is big. How about barre yoga? Or better yet, barre yoga for women? Still too much competition? How about barre yoga for postpartum moms?
The further down the "rabbit hole" you go, the more likely you are to discover a market segment with limited competition that you can capitalize upon.
With niches, you can serve a specific set of consumers and react to their unique needs.
In addition, a smaller market share works as a great "jump-off" point, giving you the leverage you need to eventually branch off into larger markets.

There are many ways to create smaller sub-markets for your potential product, but one of the easiest ways to define and target a niche is to layer various customer behaviors and interests.
However, this does involve some deeper research into your initial subject.
Here are a few effective ways to find niches online.
Start with a broad topic, and let Google take you through its iterations.
For example, I enjoy Dungeons & Dragons. So, I would start with a search just for Dungeons & Dragons on Google.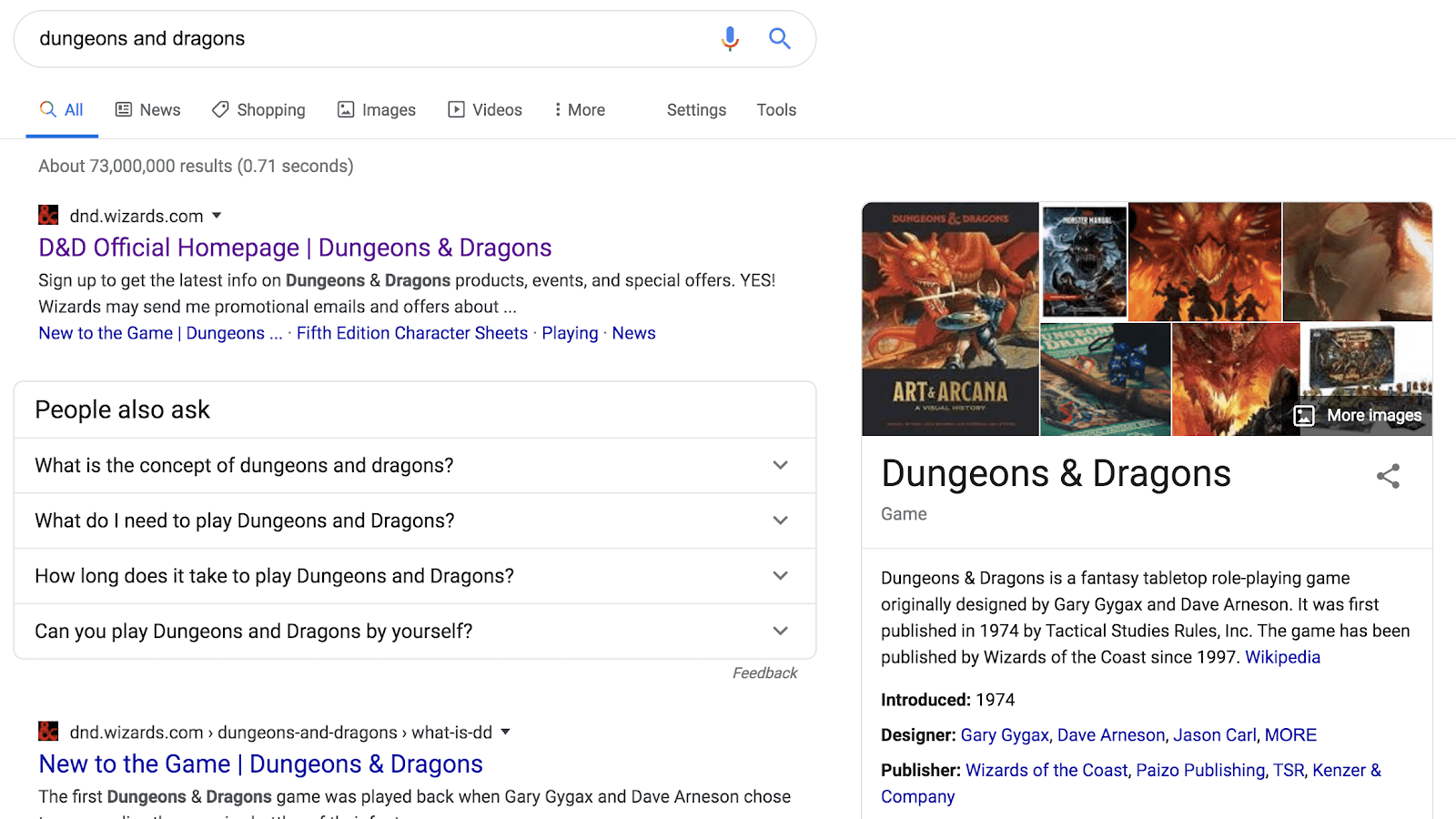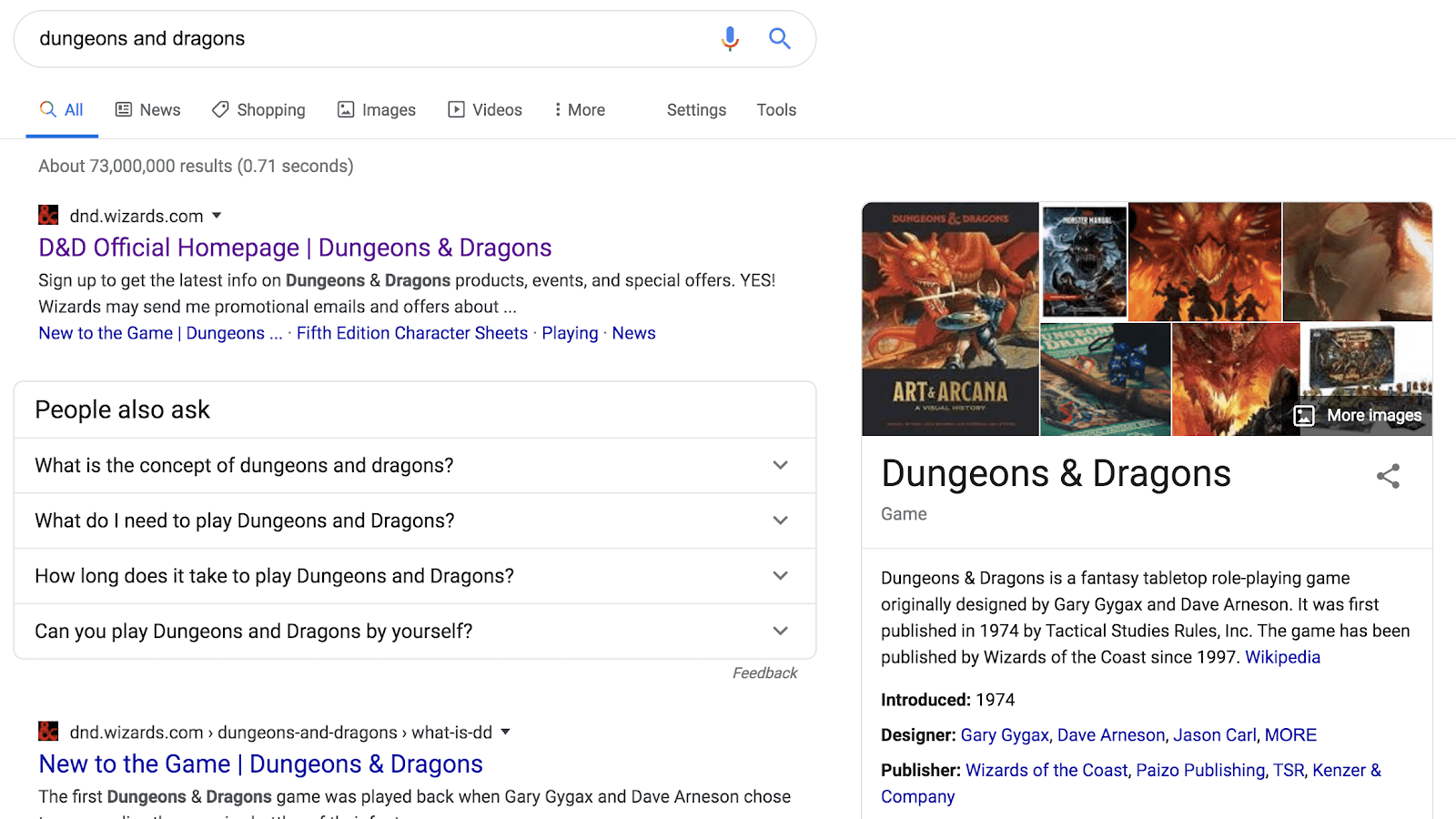 Obviously, this search results in a lot of broad information and sends me to the biggest, most competitive pages. But, it also gives me insight into what fans of Dungeons & Dragons are interested in.
Case in point, under the "People also ask" snippet, I can see four common questions associated with this particular search, one of which is "What do I need to play Dungeons and Dragons?"
This directly relates to products, so there may be an opportunity here.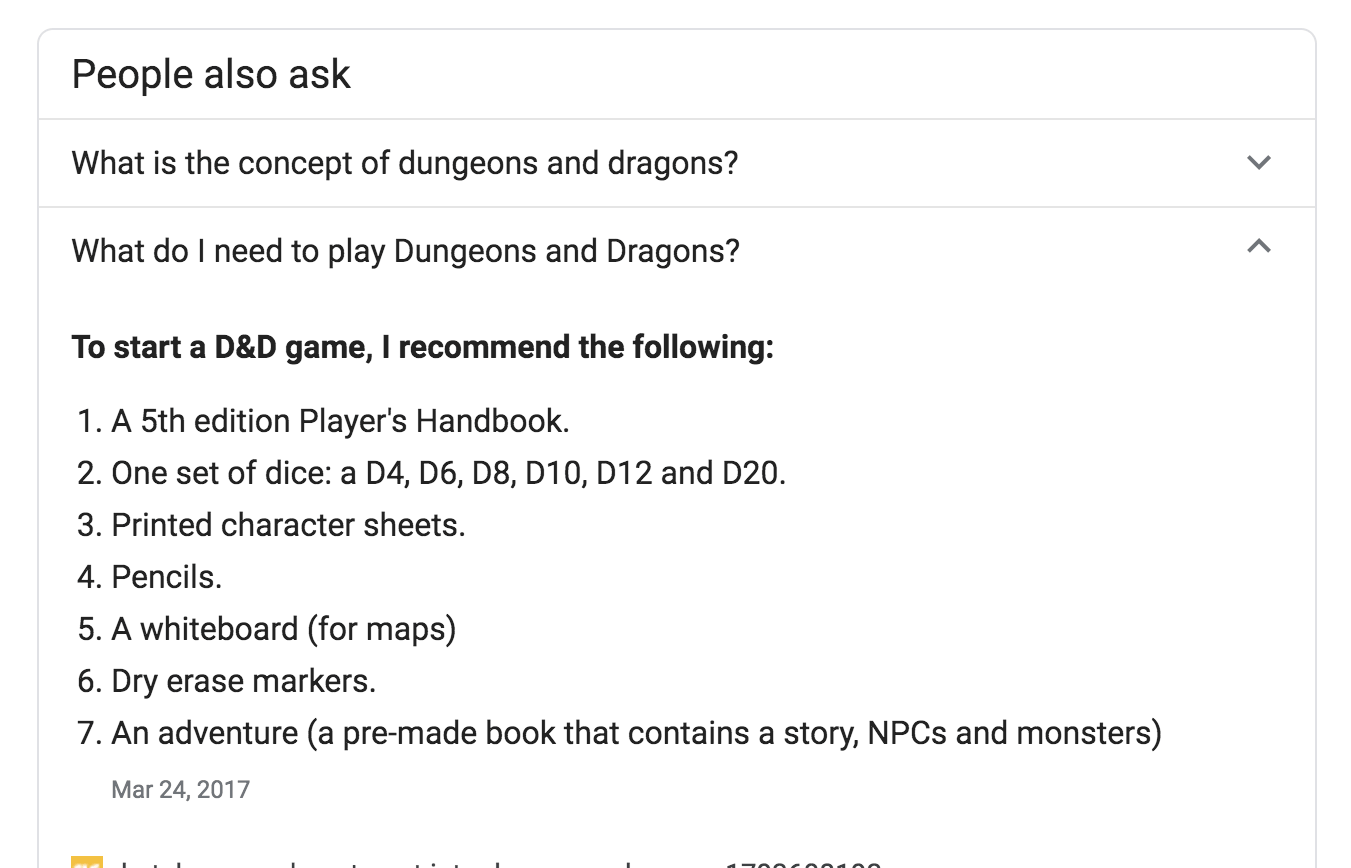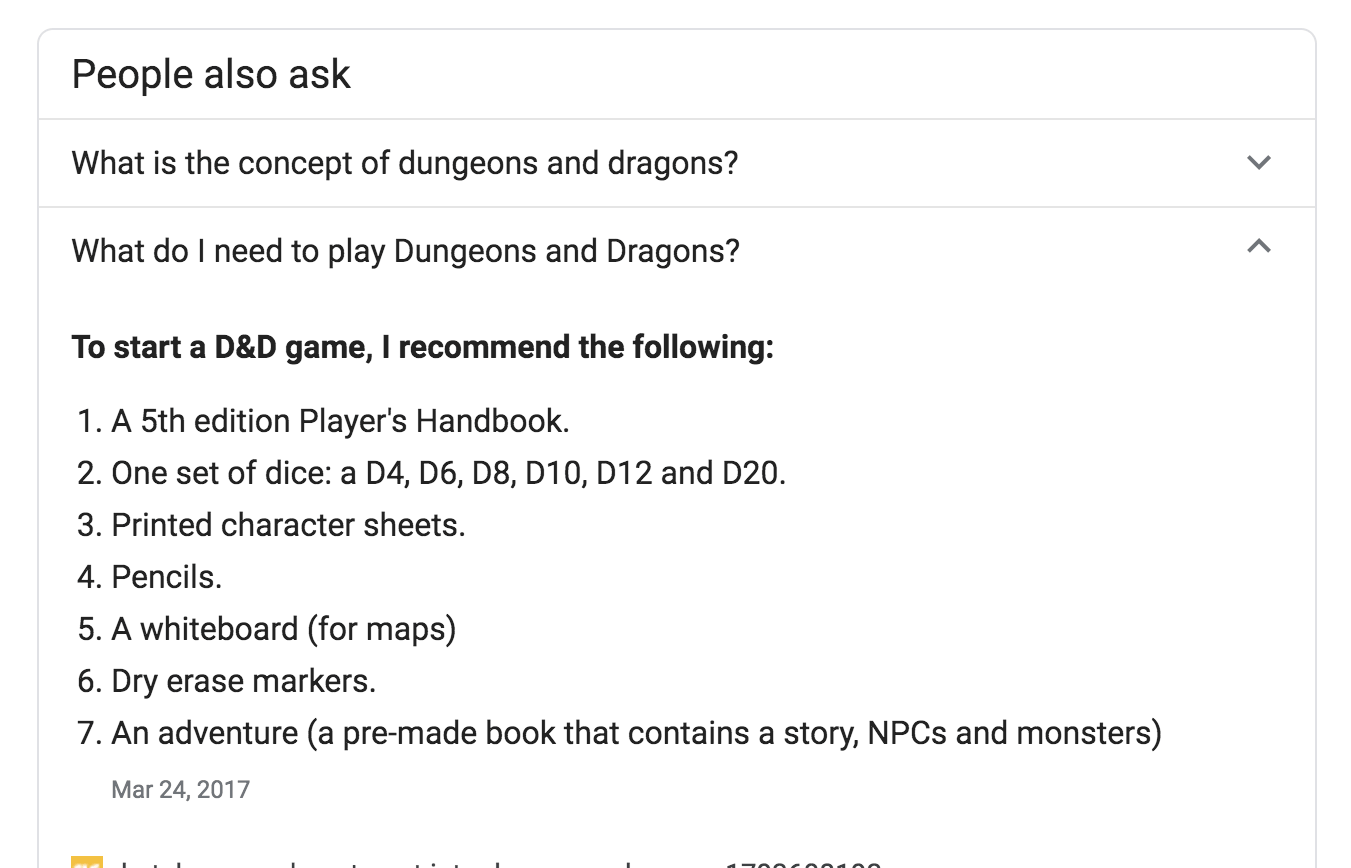 Now I have some potential niche product ideas: dice, printed character sheets, a whiteboard, adventures. And using this information, I can dig a little deeper.
Taking the idea of "D&D dice" I'm going to do another Google search.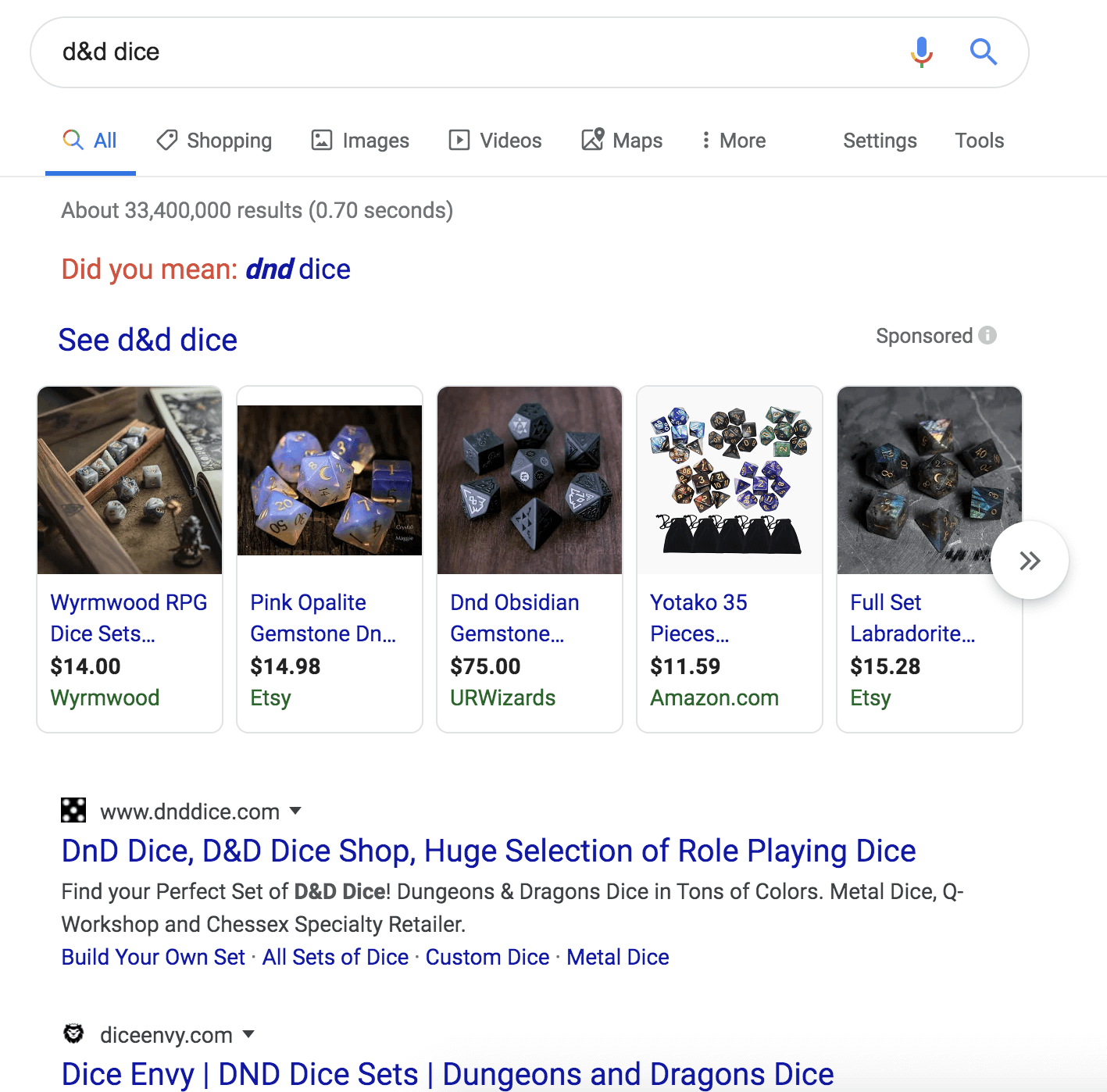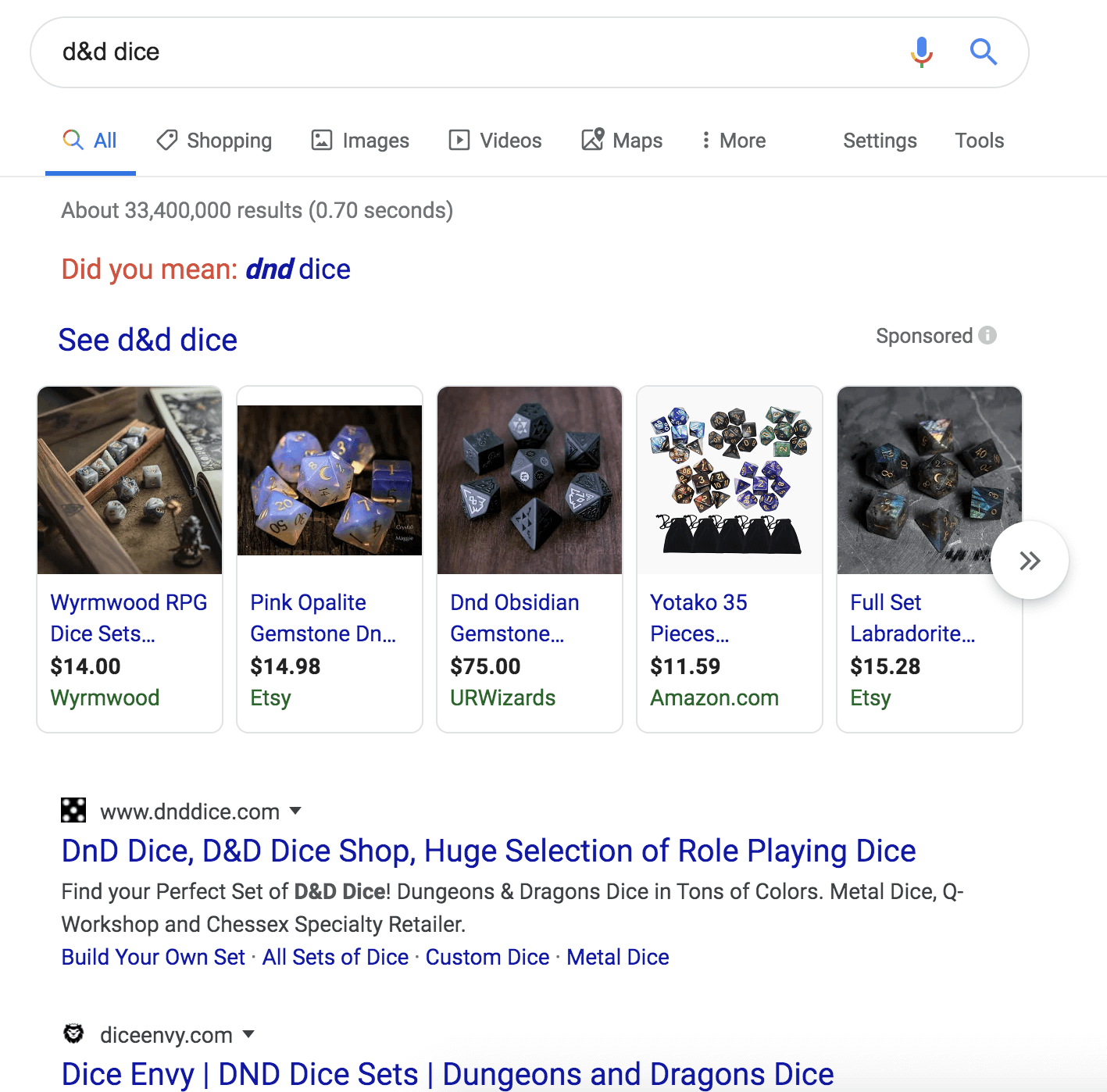 Right at the top, we can see sales options for D&D dice on stand-alone websites (like Wyrmwood) or popular online retail platforms (like Etsy and Amazon).
There are also articles on D&D dice listed, which help to point us in the direction of the information that's most important to people performing searches for "d&d dice." Following this trail can lead us deeper and deeper into D&D niches.
Since the Wyrmwood set is the first product listed in the results, we can assume that the dice are quite popular.
And that's important because, not only will you want to find Amazon product niches, you'll want to figure out the niches' popularity as well.
If you ever need to check out how popular a blog post or page is on Google, use a website like SimilarWeb to check its estimated traffic. For example, the website Wyrmwood Gaming has the following statistics: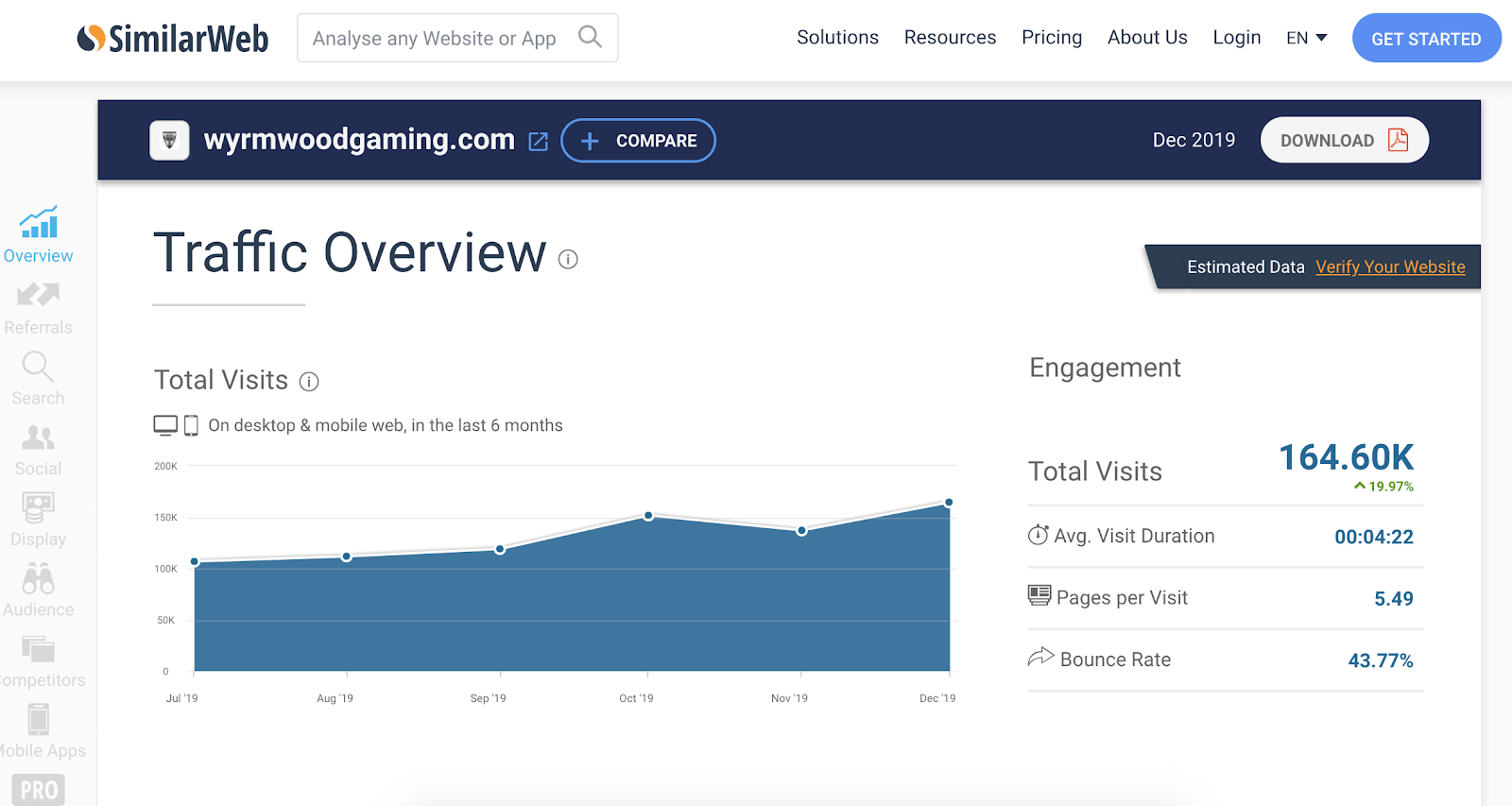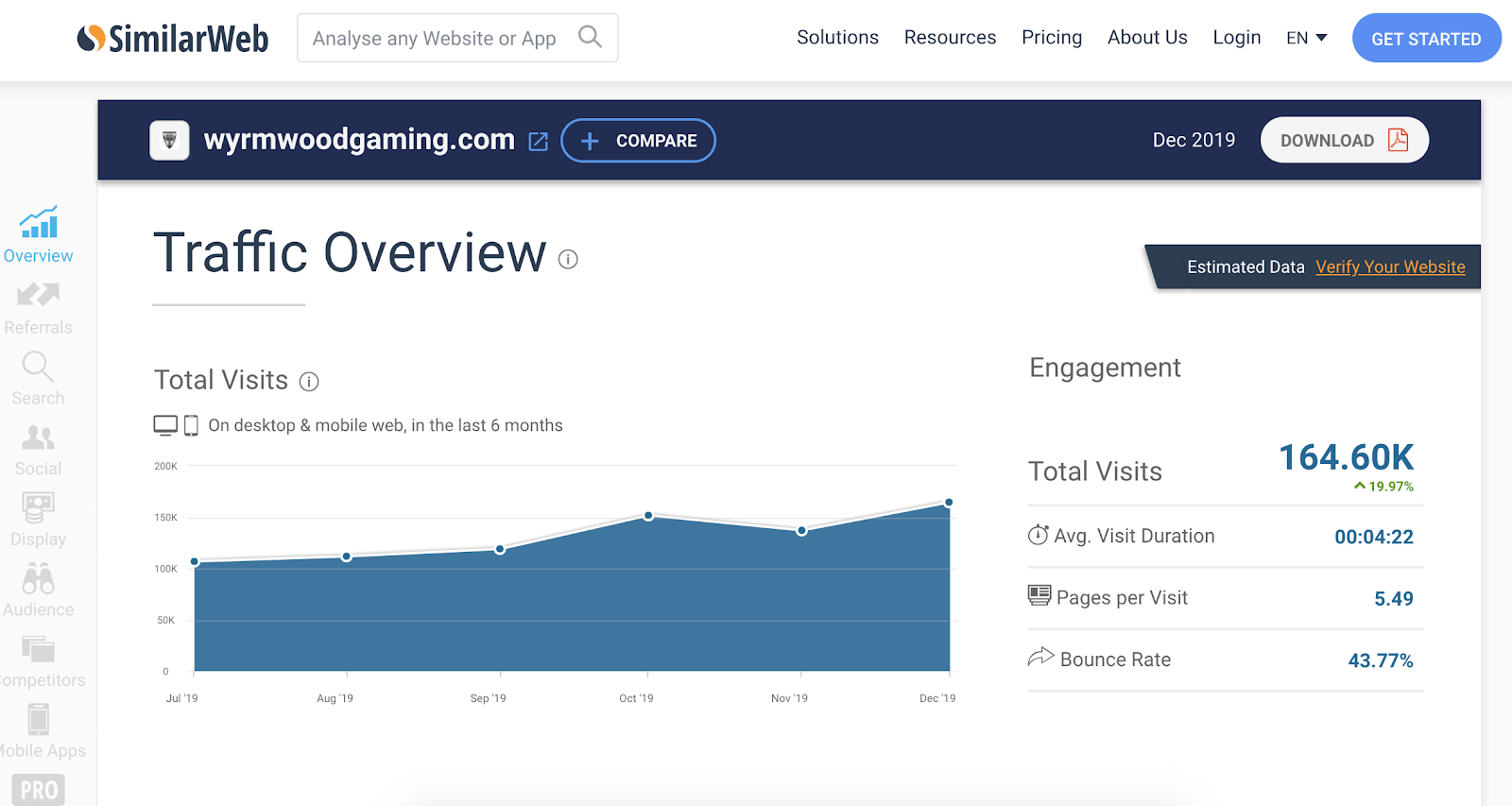 As a rule of thumb, I like to find websites that get around 100,000 to 300,000 visitors each month. That amount of traffic means the niche is viable without it being too competitive.
If you find a website like this, it is a perfect opportunity for you to research and learn how they do things, and to model your own business after eventually.
The next place you can look for niche ideas is in online communities. Online communities are everywhere, but here are some of the best to help you get a sense of a certain niche's popularity.
Instagram actually makes a great tool for finding niches thanks to its use of hashtags. Using the Dungeons & Dragons example again, I went to Instagram and ran a search for the hashtag #dungeonsanddragons.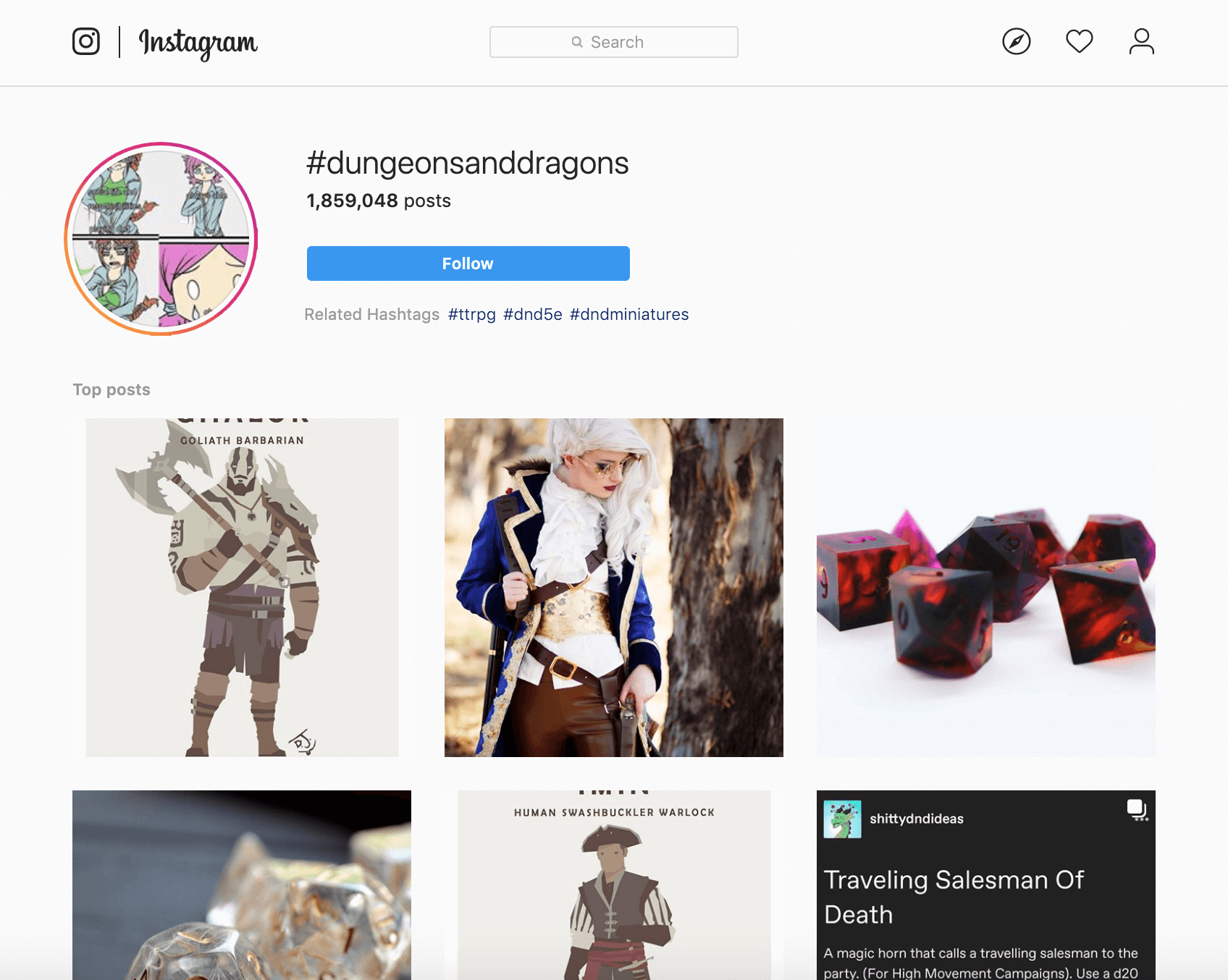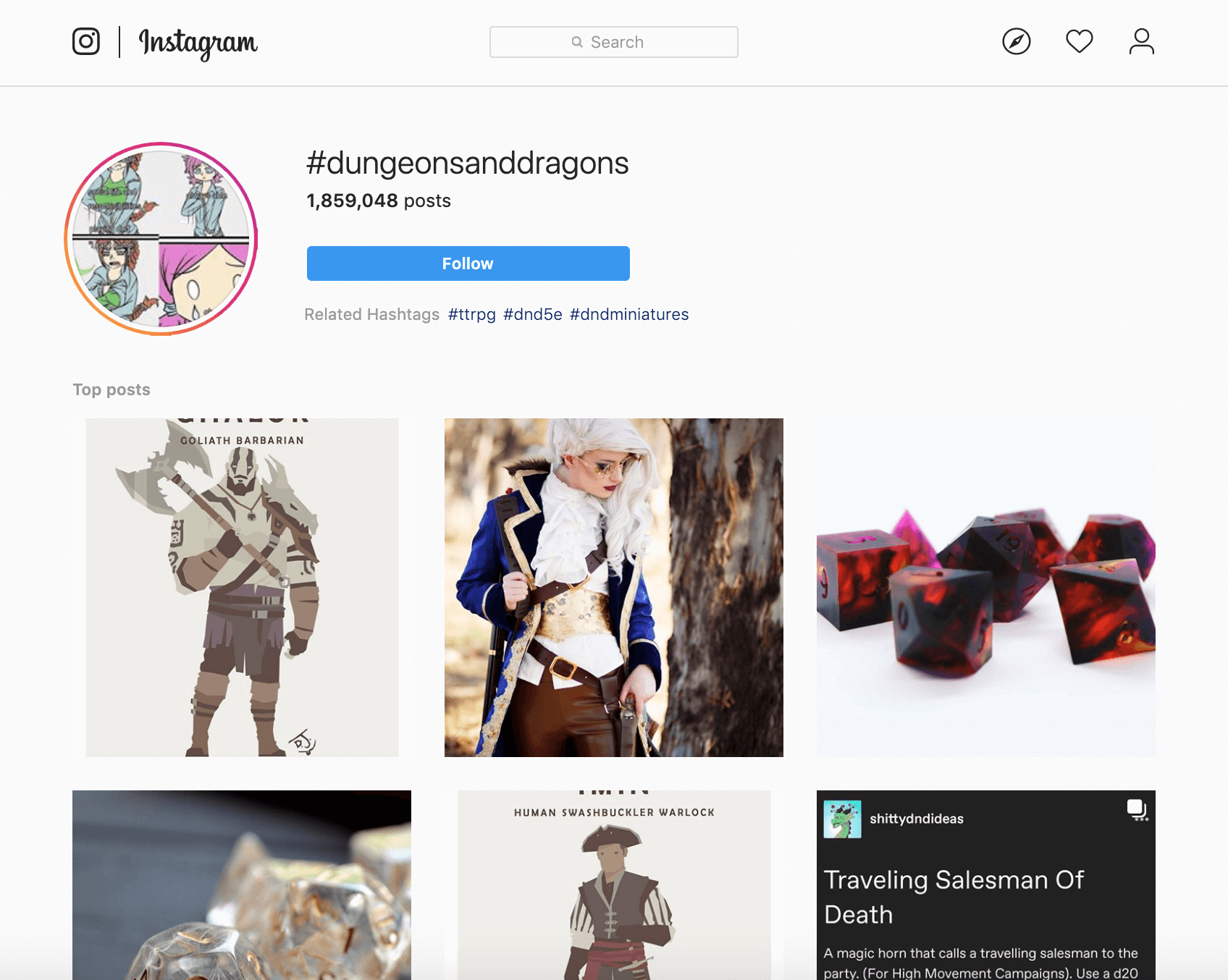 Right away, we can see three different types of niches within the Dungeons & Dragons community on Amazon. The top posts include more dice (starting to see a pattern?), a Dungeons & Dragons costume, and character art for a Dungeons & Dragons character.
All three are potential niche opportunities. You can sell dice, make costumes, or even design or paint images of Dungeons & Dragons characters.
When it comes to gauging how popular a niche is, however, look at the Top Posts and find their hashtag lists. Try to find hashtags related to the image that have between 50,000 and 500,000 posts.
Less than 100,000 and you might not have enough market to support the niche. Over 500,000 and you might have too much competition.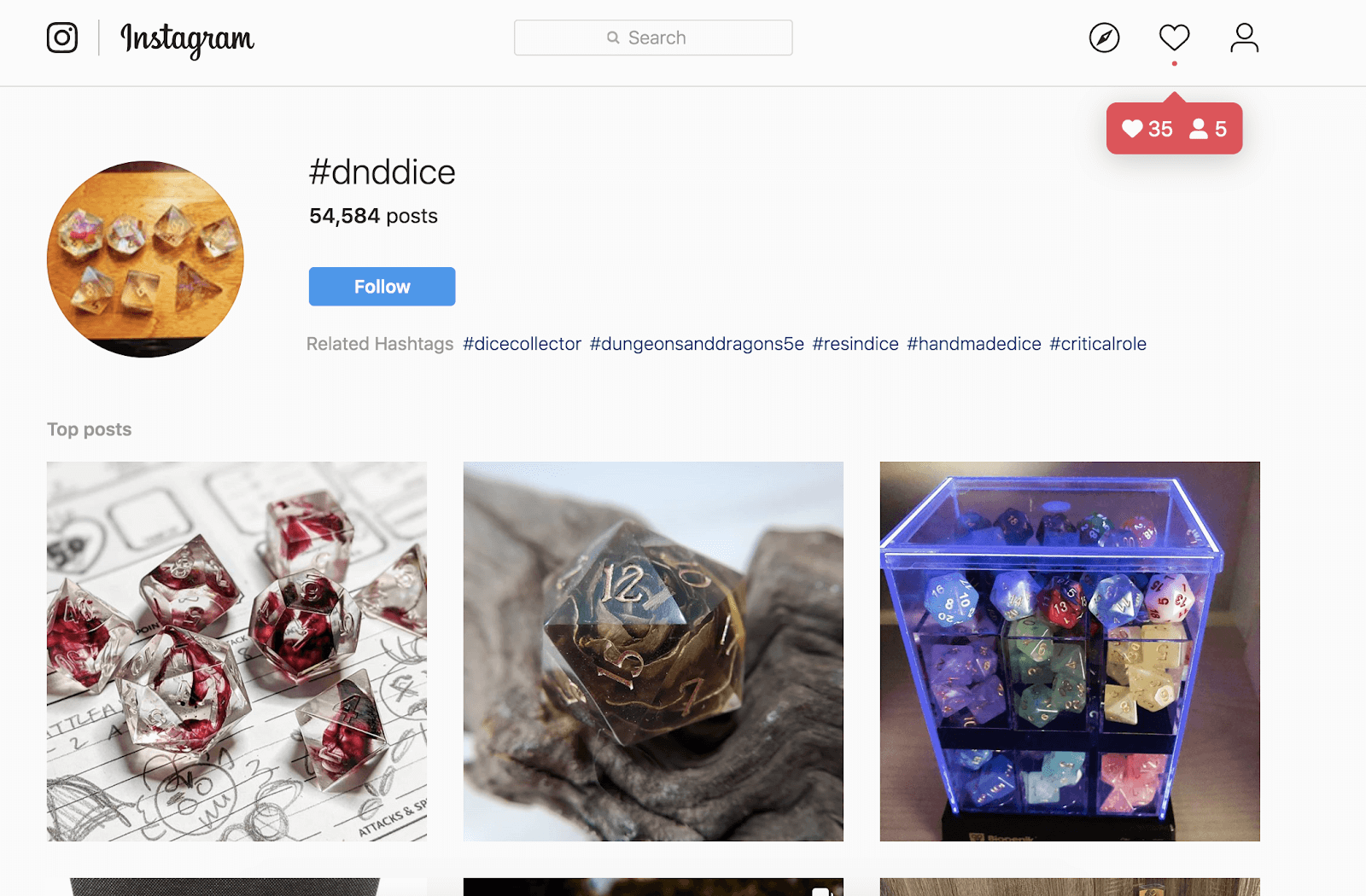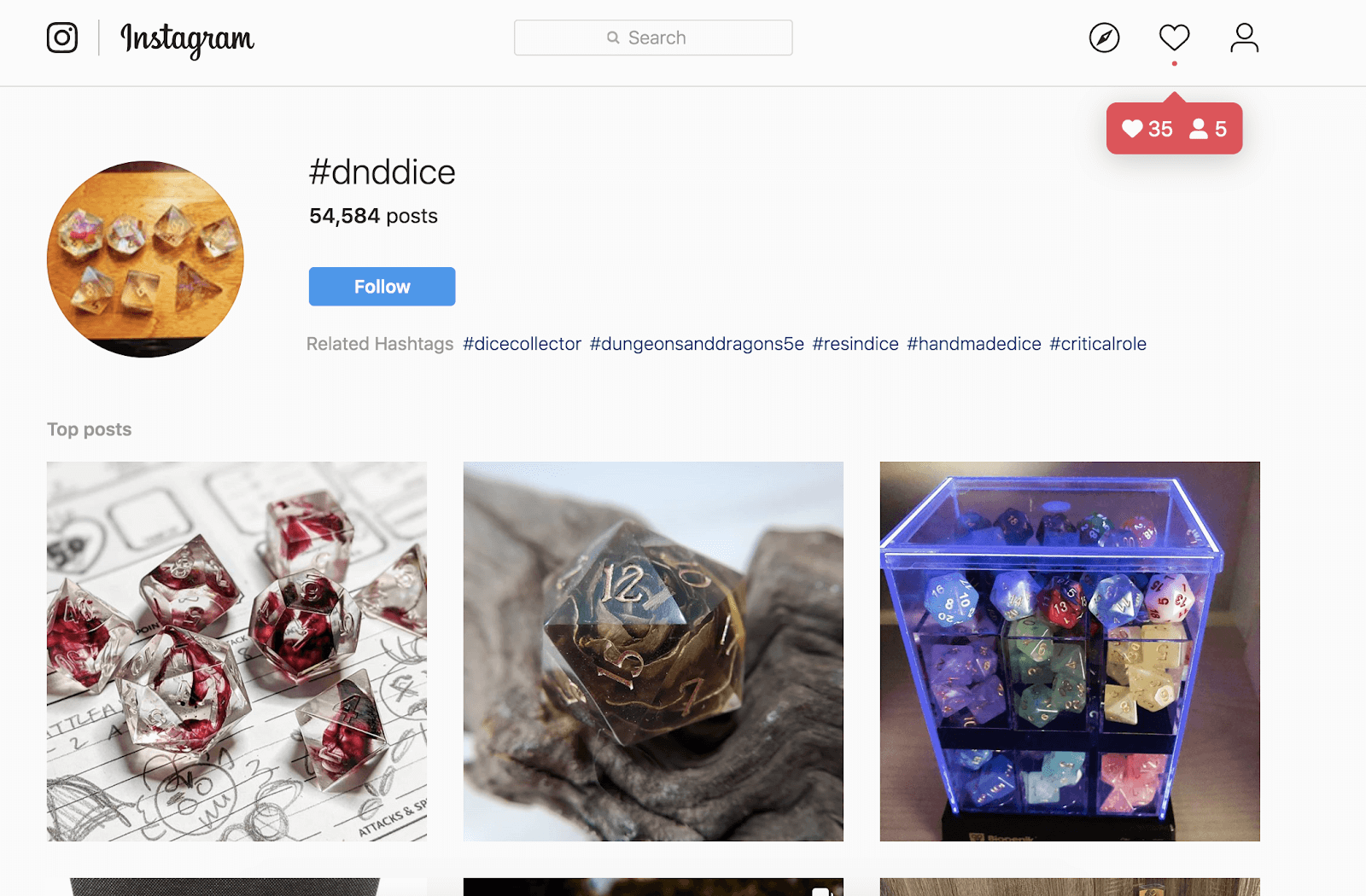 For example, this hashtag was attached to the top post in the #dungeonsanddragons hashtag results, and now we have an entire page full of dice.
If we "follow the rabbit hole" and click on that first post, we can get a good look at the person who posted it.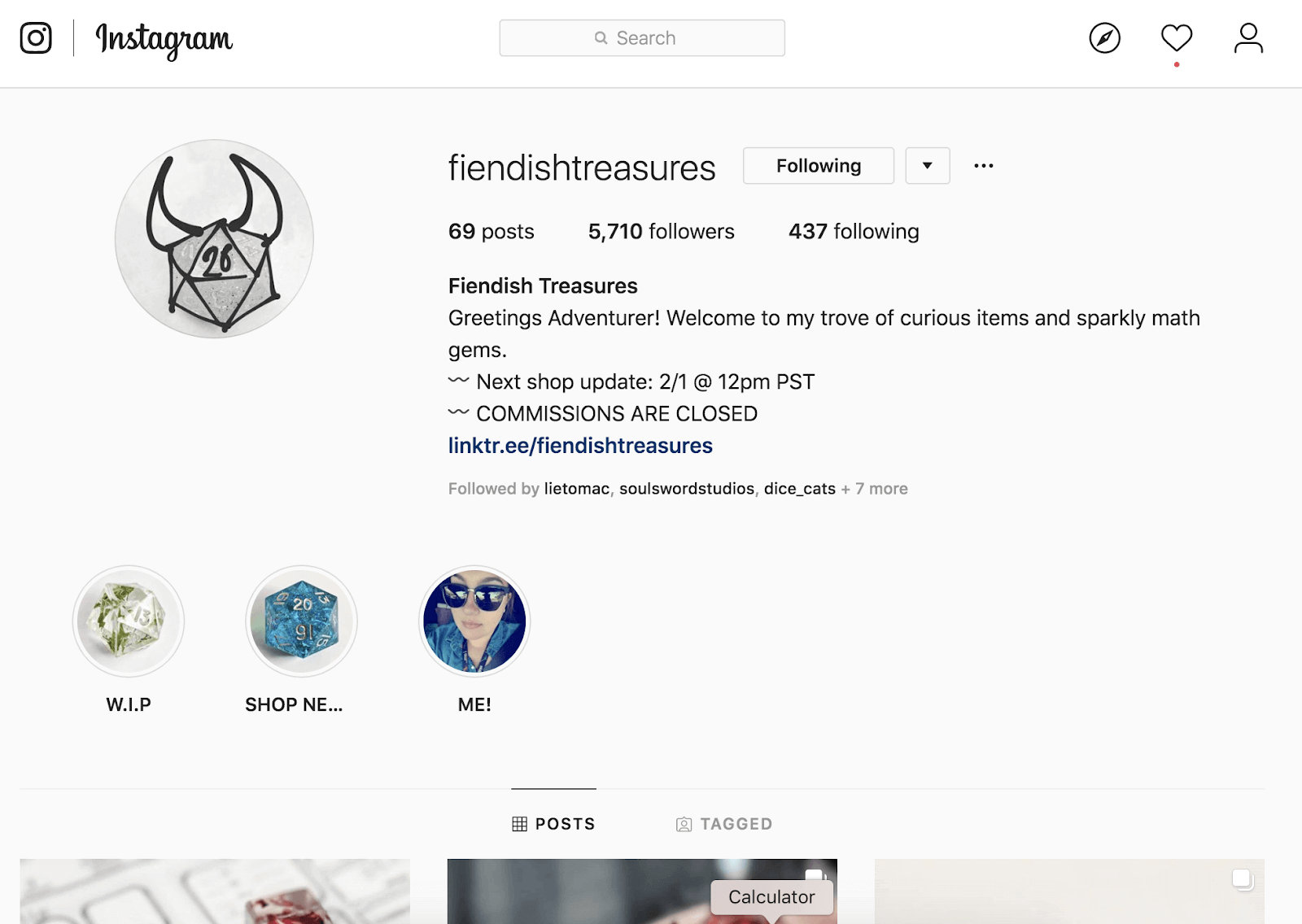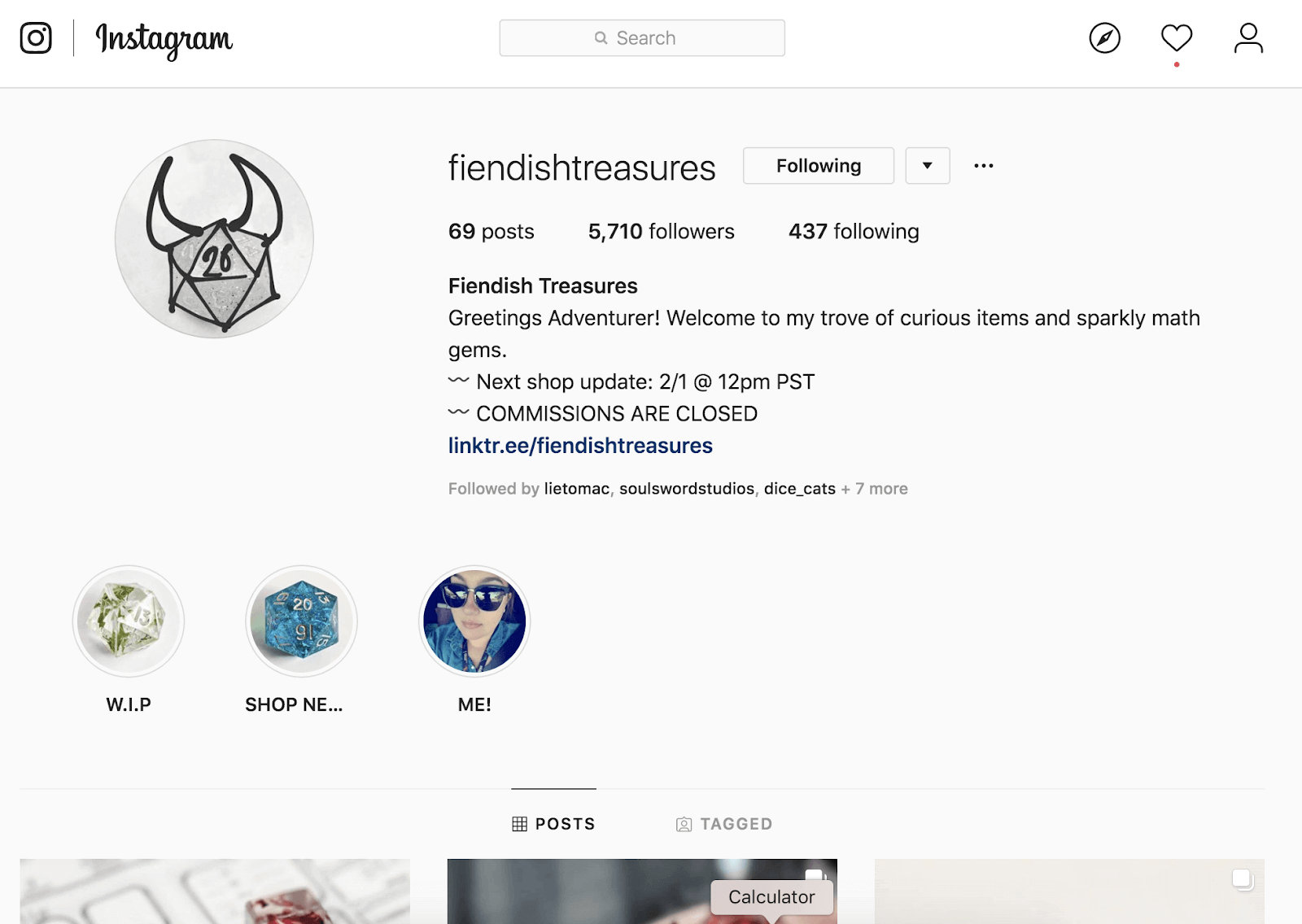 As you can see, they are a seller of "math gems" (a nerd's term for Dungeons & Dragons dice). They also have a shop with a link, and it looks like they're doing enough business that their "COMMISSIONS ARE CLOSED." Plus, they have 5,710 followers.
This is a good account to model your own niche business after as it seems like they've found a modicum of success with the niche 'DND Dice'.
Facebook is a great tool to come up with niche ideas, mainly because it lets you search through posts, hashtags, groups, and pages.
Once again, using the Dungeons & Dragons example, I searched for "Dungeons and Dragons" on Facebook. On the left hand side, you'll be able to filter by posts, people, pages, images, groups, etc.
I filtered by groups, as it's a great way to niche down and gauge the size of an audience.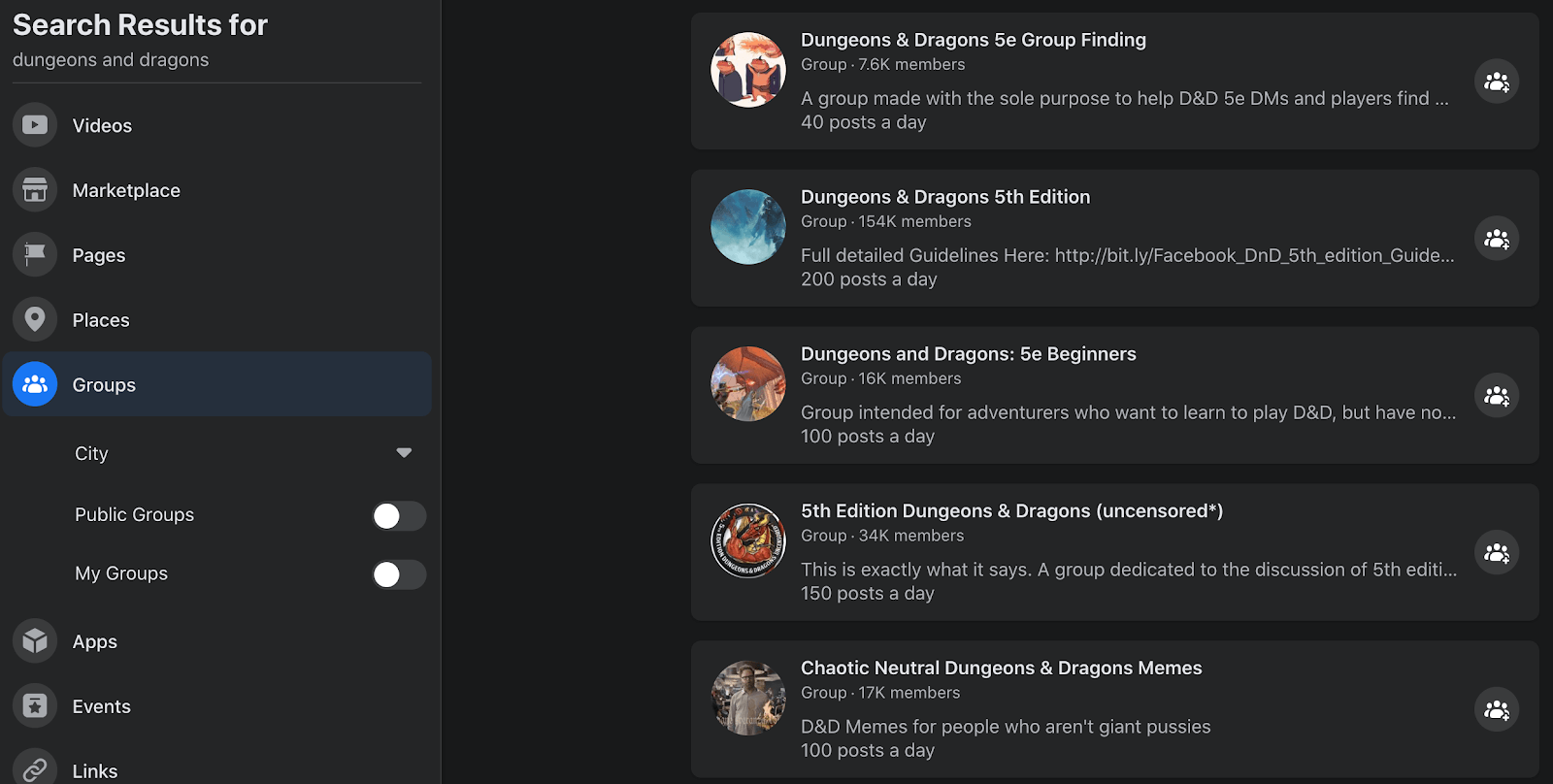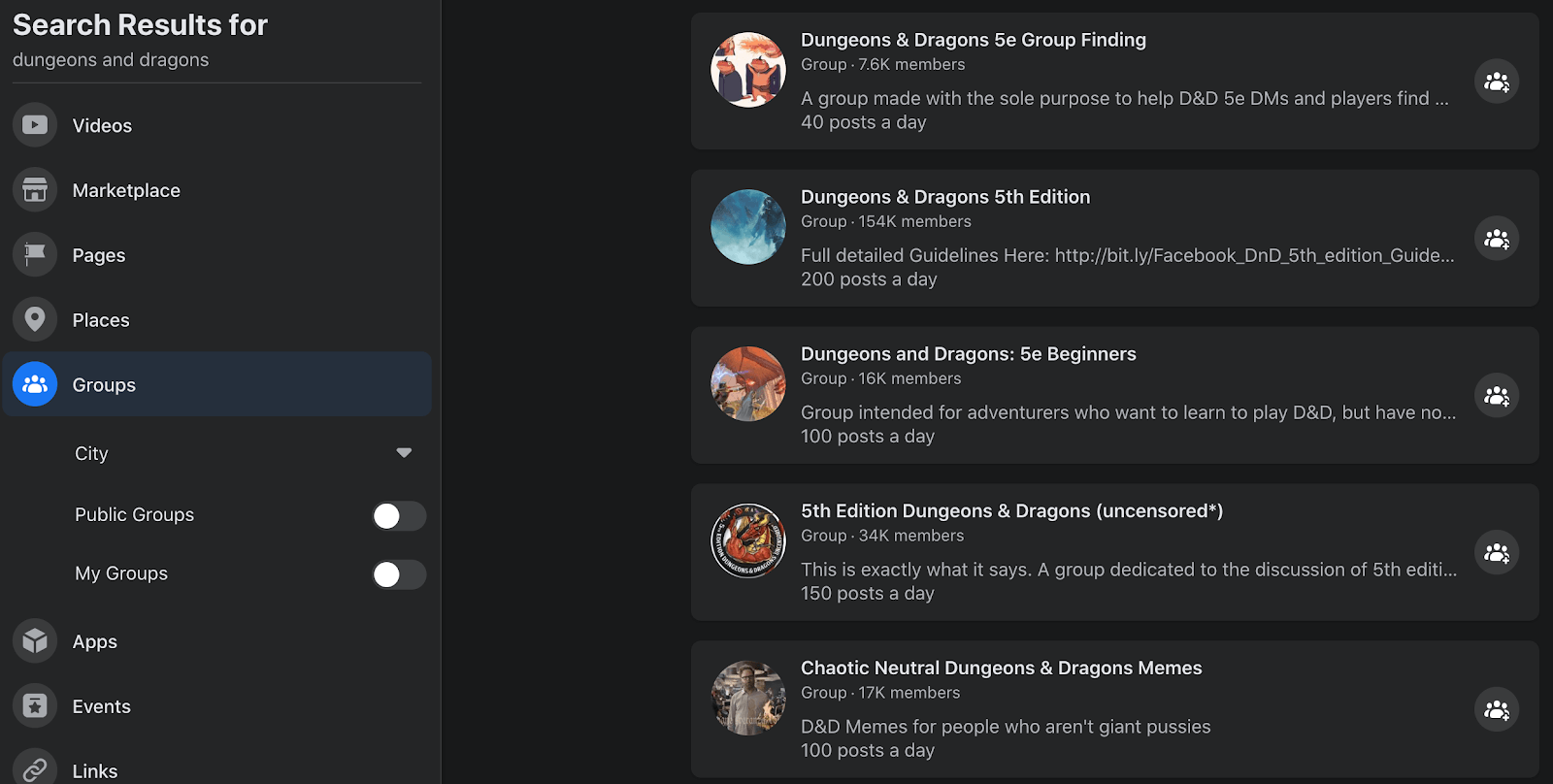 As you scroll through, you will see tons of groups that you can join. Spend some time going through the most popular groups to get an idea of what people are talking about. Build rapport with your fellow group members and participate in conversation.
Try to figure out what a specific pain point that members are facing that you can solve.
Another great way to find profitable niches online is through Reddit, which is a collection of communities divided into subreddits. That means the platform is already organizing its data for you into subsets (aka niches).
A measure of a subreddit's popularity is within its follower count and growth. The website subredditstats.com takes all of the data from reddit and organizes it by growth and follower count. In addition, you can also do a search for a specific subreddit.
Here are the stats for the immensely popular r/DnD (Dungeons & Dragons subreddit).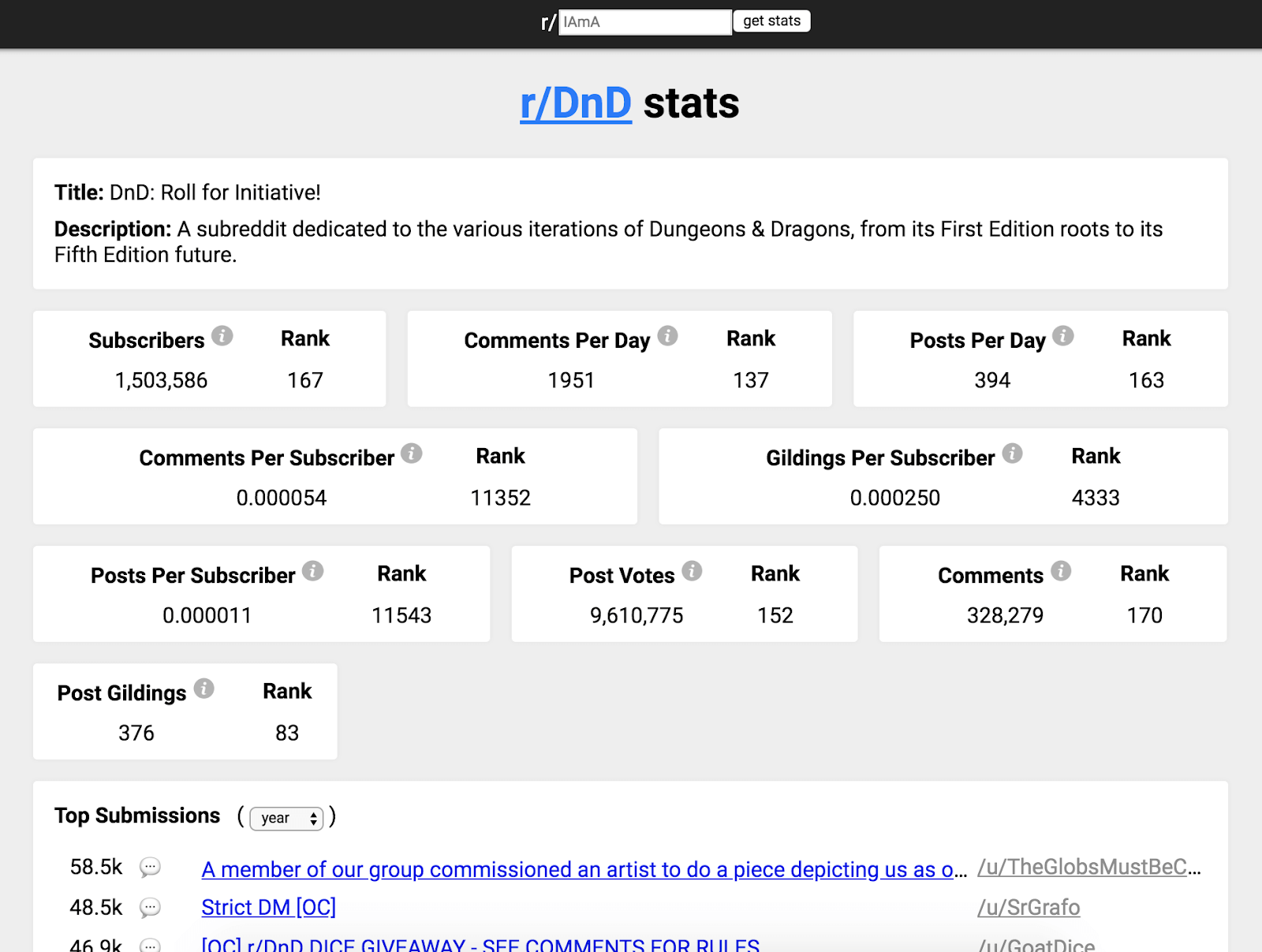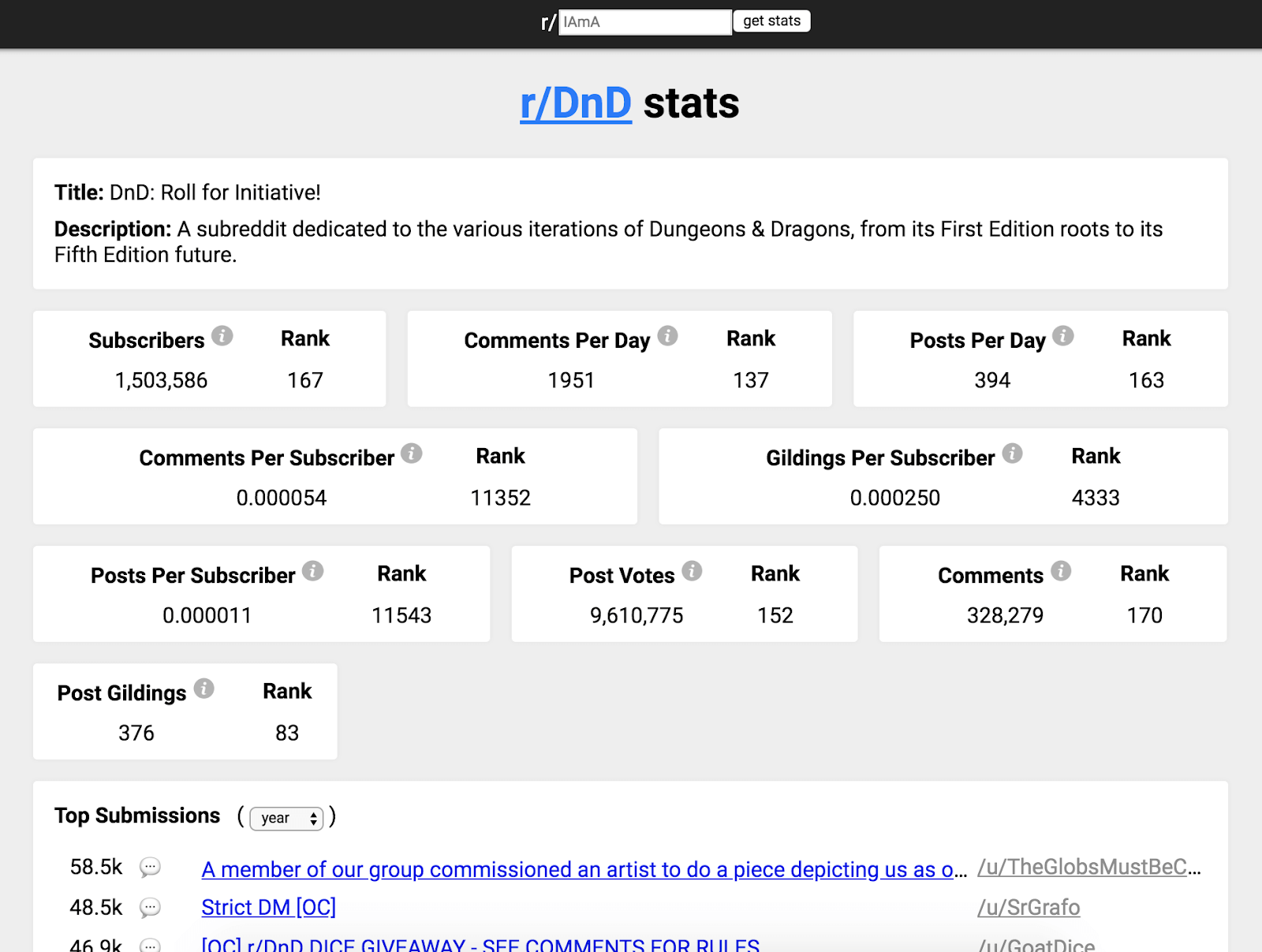 Again, Dungeons & Dragons is too broad of a topic to go after. Thankfully, however, subredditdata.com offers details on top Dungeons & Dragons-related keywords, as well as related subreddits.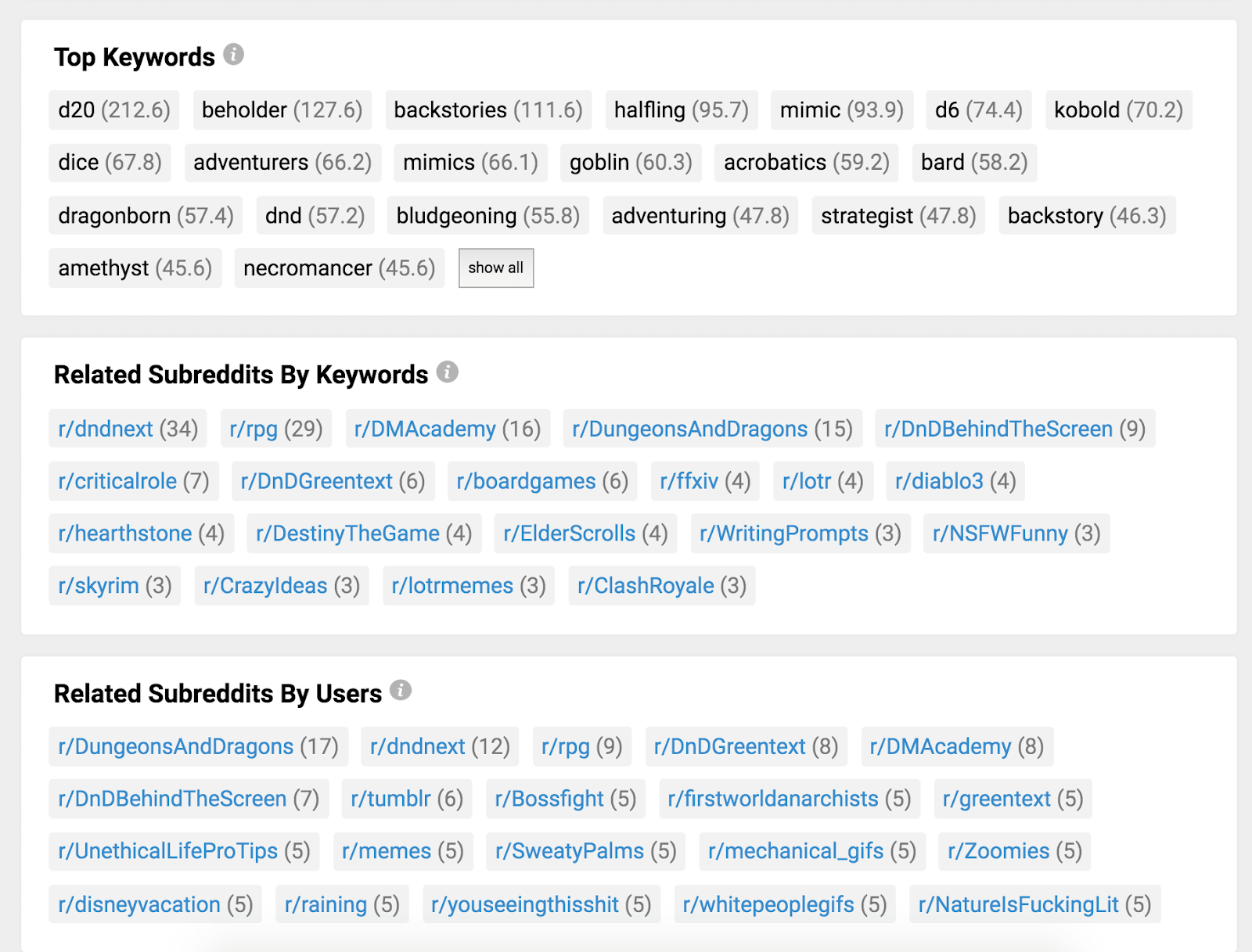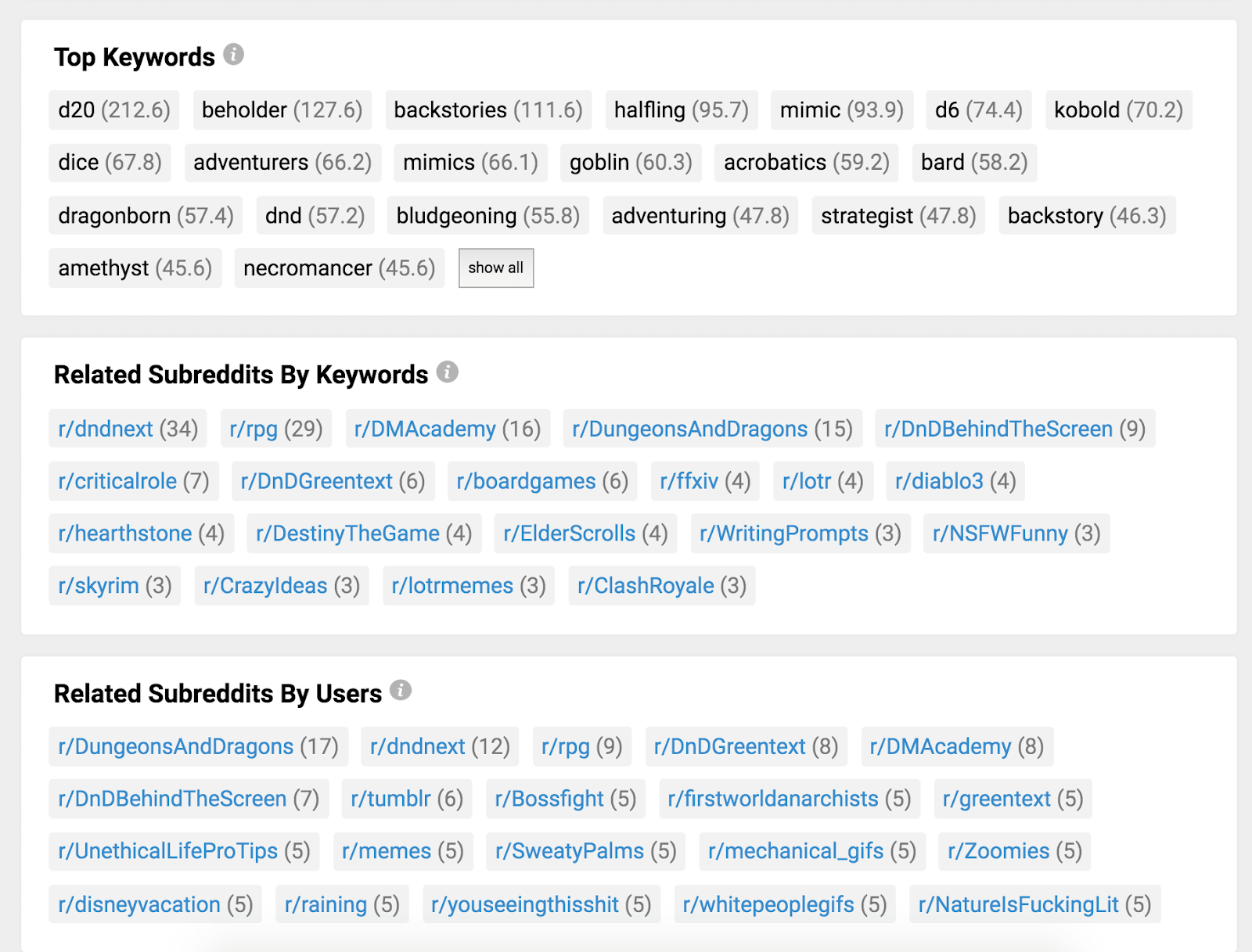 Right away, we can see some great opportunities, especially with the keywords.
If I were still interested in selling Dungeons & Dragons dice, I immediately see that the terms d20, d6, and dice are popular. The word amethyst — a type of gem — is also popular.
Perhaps amethyst Dungeons & Dragons dice are worth considering?
Another community to mine ideas for profitable niches is Quora.
Quora is a question and answer website, and users submit questions about certain topics. Then, other users reply, with the best answer(s) upvoted by the original poster, as well as other people who read the question.
The benefits of using Quora to find profitable niches is two-fold.
First, like Reddit, Quora organizes all of its questions into topics and subtopics. Plus, it offers information on subjects related to the original topic. These related subjects can help you find new niches that people are interested in.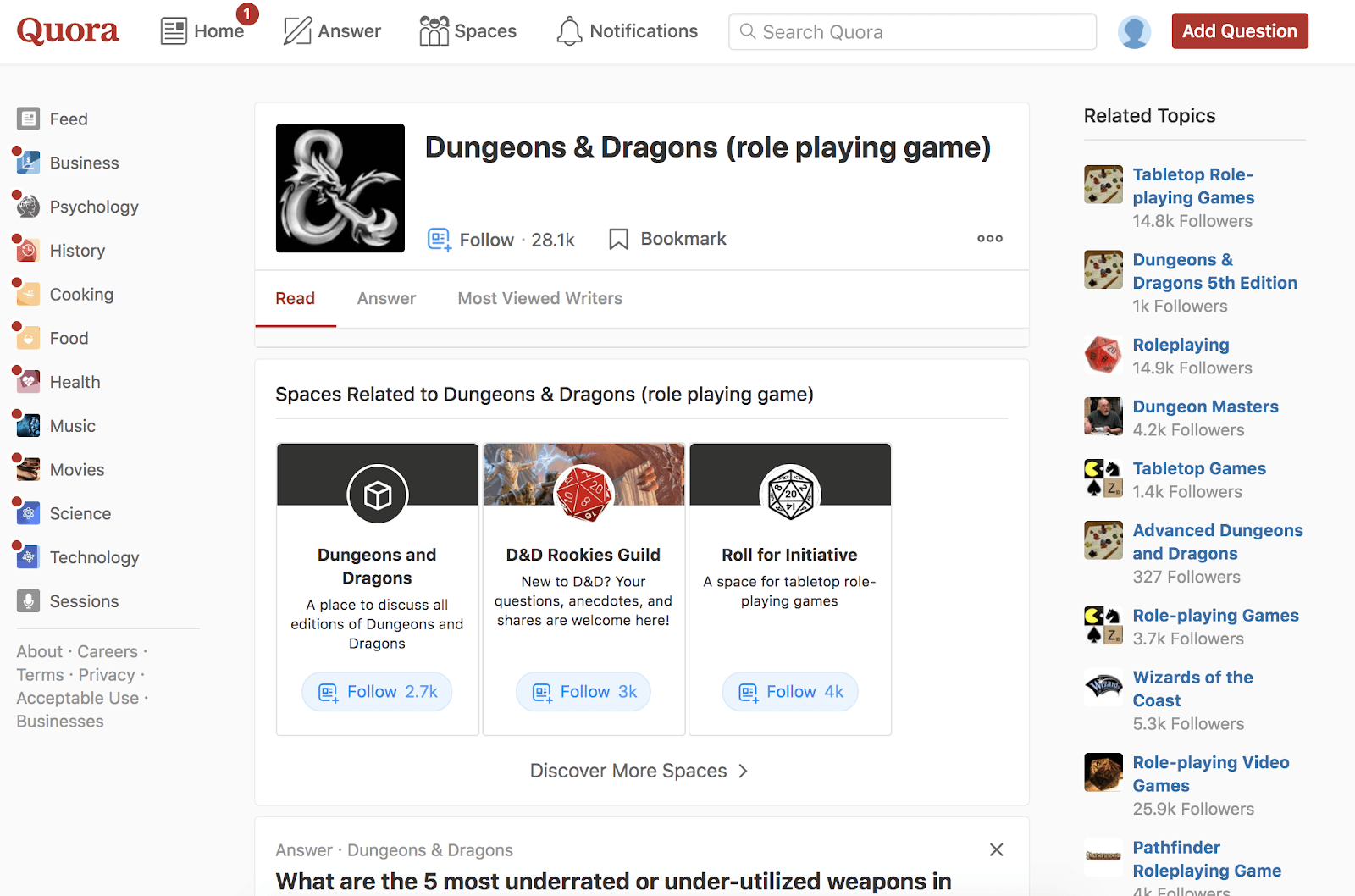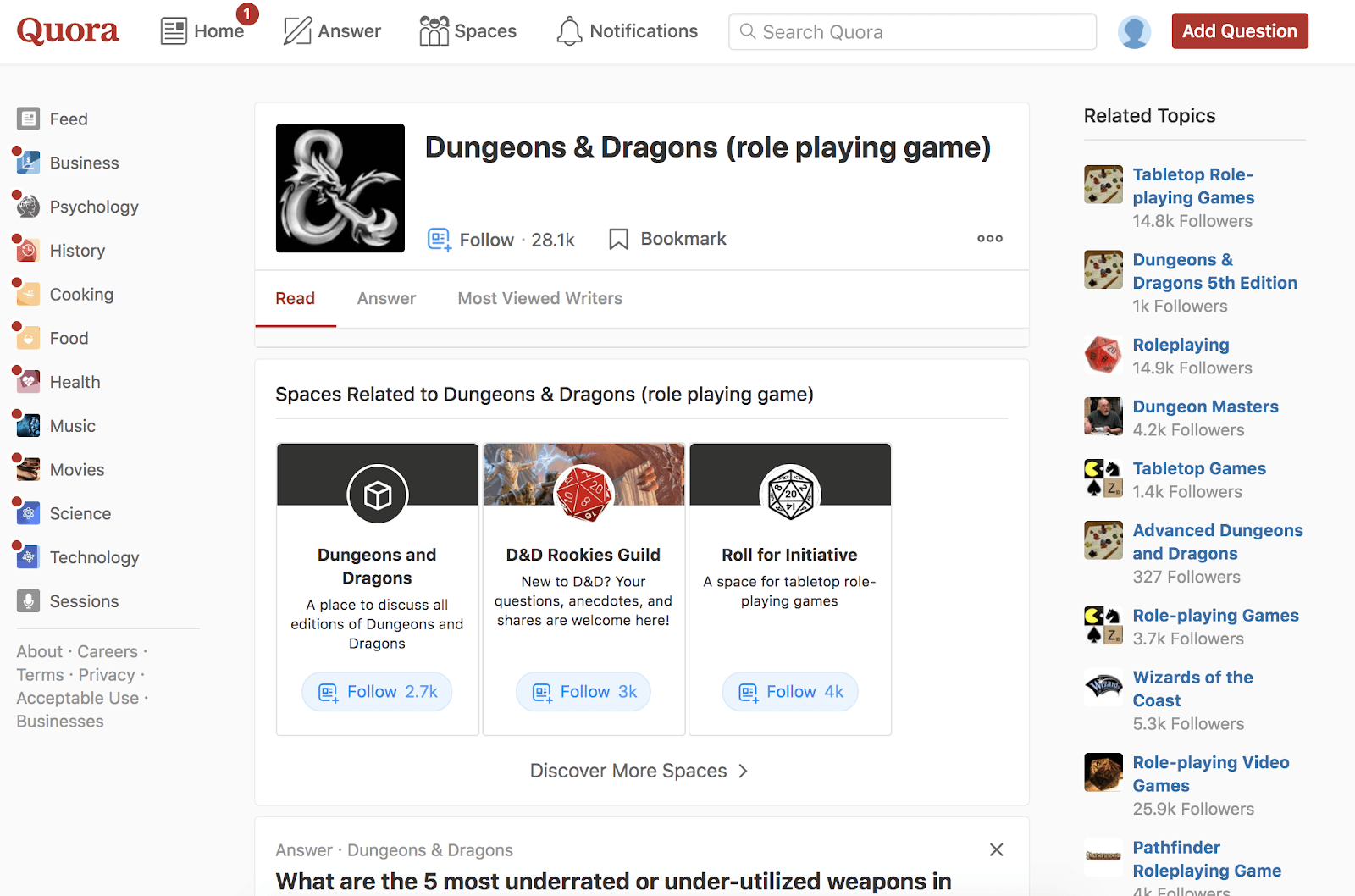 Next, the questions themselves are great for finding out what people want to know within the community. If you plan on making a product or service that's informational, Quora is a fantastic way to learn what the community wants.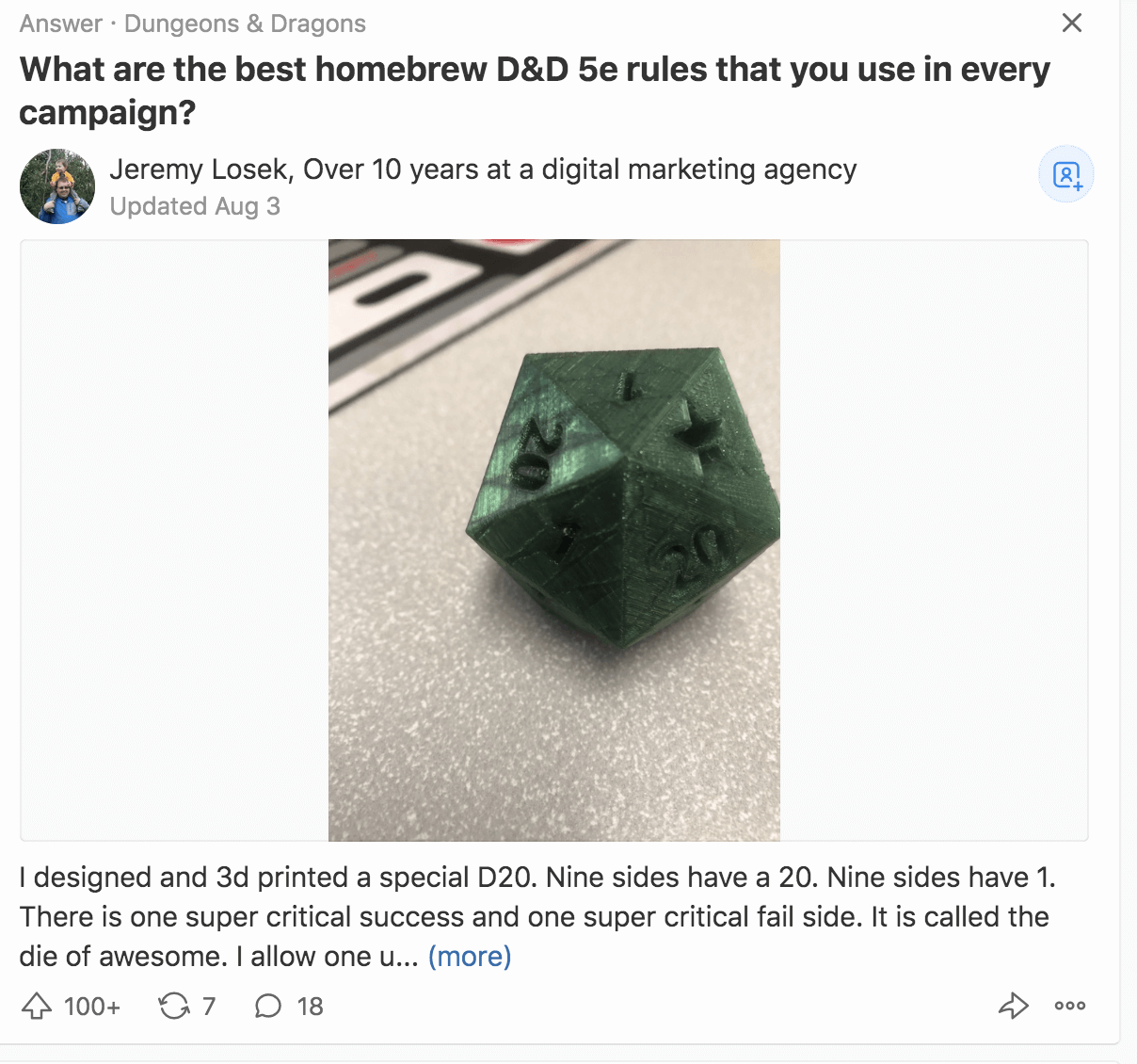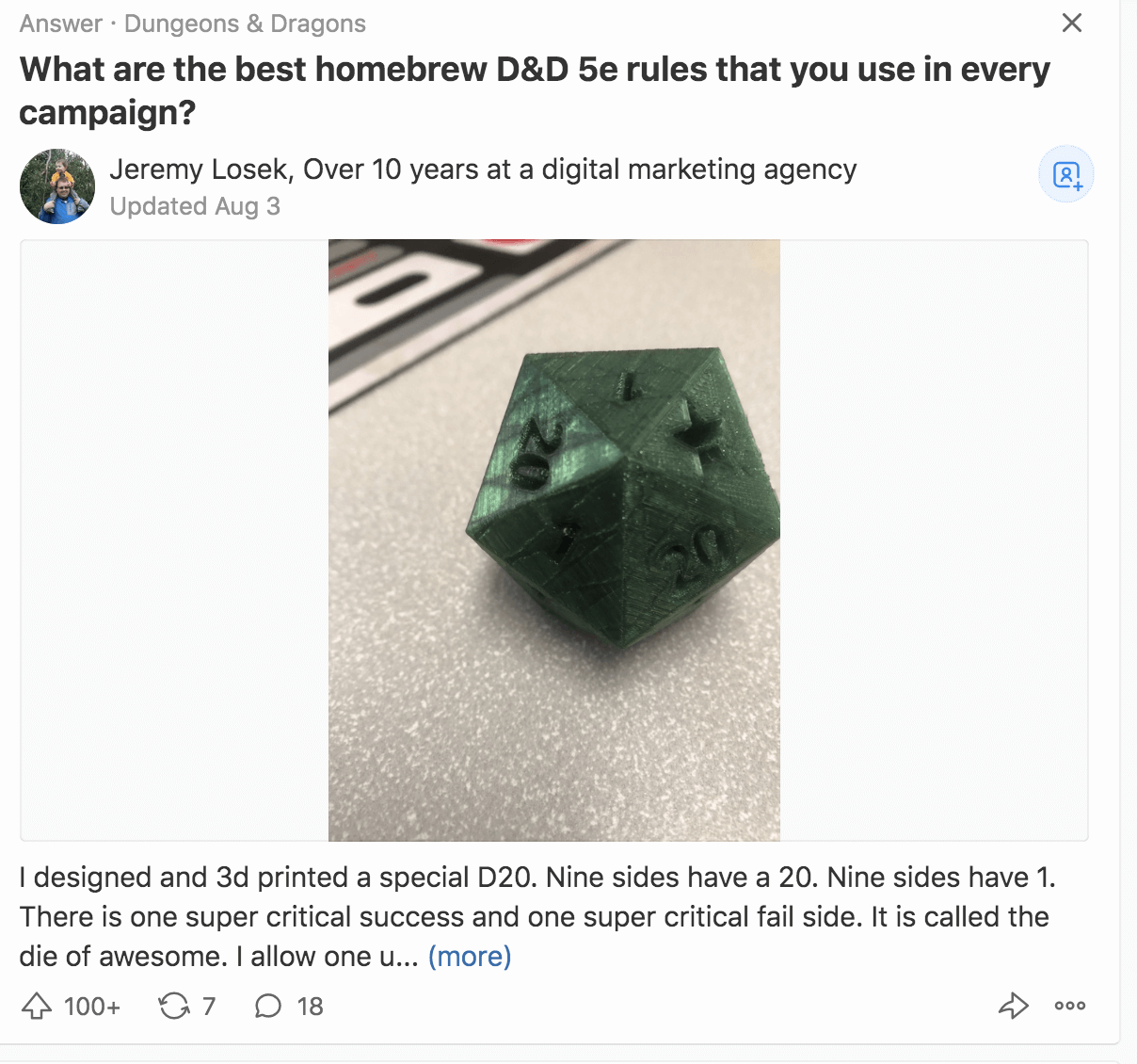 In the image above, someone asked what's the best "fan-made" rule that people use in Dungeons & Dragons. User Jeremy Losek answered that they created a special die.
This answer was so popular it was upvoted by users over 100 times. That's usually a good sign that people are interested in it!
While we offer a few different ways to come up with cool niche ideas, the absolute best way to find niche opportunities — especially those which people are willing to pay for — is using a tool like Jungle Scout's Opportunity Finder.
Opportunity Finder pulls data directly from Amazon.com and sorts it all by filters that you select. Using that information, you can find niches people are most interested in.
To get you started, here are a few Opportunity Finder filters I recommend you use:
Immediately, you'll see hundreds of awesome keywords pop up. There will still be some branded searches in there, but look past those and you'll find some real money-makers.




Once you have multiple opportunities to vet, use Jungle Scout's Extension. All you need to do is log on to Amazon, open Extension on a keyword results page, and learn more about potential Amazon product niches.
For example, say I want to search for "Glass Weather Predictors."




When the search page is open, click on the "JS" button to the right of your Google search bar to bring up Extension. Within seconds you'll have a whole host of important information, including:
And when looking at Amazon's data, try to find products that have an average monthly sales of 300 units between the first ten products on the list.
You also want a good average sales price; something between $25-$50.
Next, you want low competition, which you can gauge with reviews. Usually, if there is an average of less than 100 reviews, that's a pretty good sign that competition is on the low side.
And finally, if you're not sure, Jungle Scout's Opportunity Score will rate the niche on a scale of 1 to 10, with 1 being "avoid like the plague" and 10 being the "holy grail" of products. A 6 is pretty good, but a 7+ is preferred.

Once you've discovered a niche that works for you, how do you take advantage and make money from it? Well, there are numerous opportunities, each with its own merits and challenges.
At a high level, you can monetize and grow your niche in the following ways (to name but a few):

Now it's on you to find Amazon product niches that will make your future as an entrepreneur a whole lot richer. And remember, there are so many ways to slice and dice a niche. It is not a zero-sum game, so there is a profitable niche waiting out there, just for you!
Do you have any other techniques for finding niches that I didn't address here? If so, please drop them in the comments! Or, if you're curious about which categories and niches successful Amazon sellers are selling in, check out "The State of the Amazon Seller" report.

Sharing is caring!
Dave Hamrick
Dave Hamrick is an entrepreneur and has been an Amazon seller since 2015. He shares his Amazon sales knowledge as a professional writer and social media influencer. Dave lives in Norman, Oklahoma with his wife, Tracy, son, Jack, and a whole mess of pets.
local_offer Tags: Private Label Product Research, SEO
Cool niche ideas. thanks for sharing.
Thanks for reading!
This is what i was looking for. It helped me in many ways. Thanks Dave for sharing this.
Thanks for reading!
Well Explained things in the article and it would help me to work and find some new ideas Thanks
Thanks, Dave, your article is very informative. It helped me in discovering new ideas. Thanks again
That is crazy awesome article Dave
Last month I started my one of mine amazon niche blog, can you please recommend best tool to find KGR keywords
Thanks for the great info. It helped a lot.
Thank You Dave! that was very helpful.
I am into a deep analysis-paralysis state… a lot of intake but haven't started yet
What do you advise someone who has a little budget to start ($ 1000) and will work solo?
Hi Mohsin,
I understand how you feel! It can be tough to figure out what to sell.
$1,000 is a good starting point for selling on Amazon. That will get you a decent amount of inventory of a lower priced product. Don't think too much about it and try to get started!
Thanks, Dave; your article helped me in discovering new possibilities in my field. The keywords document deserves praise.
This is one level up from any blog to starting at high demand low competition niche site for amazon affiliate. It covers all the stuff to finding a good niche, thanks @Dave for sharing such an amazing post.
Keep writing keep sharing
Thanks Dave, this article helped me explore new opportunities in my niche. Kudos to the keywords document.
Thanks for reading!
Great, thanks for share this
Hi Dave I want to sell on amazon as a affiliate, but Amazon has closed my account without any clear reason. I was promoting it's product on my Facebook pages, personal Twitter account, etc. Is it not ok.
Please help me out. Will be very thankful.
From
Sanjay
India
Hi Sanjay,
Did Amazon give you a reason why your account was suspended? Did you violate any of their terms?
wonderful post for finding the low competitive niches in blogging.
Plz guide me which categories and niches successful Amazon sellers
Hi,
Check out our top Amazon categories post: https://www.junglescout.com/blog/amazon-product-categories/
Apart from Low Competition Keywords, try to choose long tail keywords with search volume between 500-1000 ,so if you write post on those topics there will be higher chances of ranking in 1st page.
Hi Dave,
Can you enlist some most profitable niches?
Hi Ravi,
Check out this post here: https://www.junglescout.com/blog/ecommerce-business-ideas/
Thank you very much, Sir.
A very informative article indeed.
Thanks very much.
Loved the post, I will really give it a try selling some products on Amazon.
Glad to hear it! Let us know how it goes!
Very well researched post.
Thank you for sharing with us.
Hey Dave Hamrick,
Your articles really help me while performing.
Thanks for sharing.
Such great informational content. Thank you for sharing with us.
Im unclear how you get the product, assuming its a niche there will be not too much supply. Gan you elaborate the sourcing?
2nd, what you propose is to sustitute existing products, which you usally only can do if you better on price, can you elaborate?
You will need to find a supplier/wholesaler/brand to purchase items from.
Not sure what you mean by substitute existing products.
A very helpful blog. Thank you
Wow!!! It's amazing how you openly share data that usually you have to pay to know about it. Thank you so much for being a caring person. This is an important piece that I was looking for.
Many thanks and take care
How many volume keywords would be best for writing articles on the amazon niche website?
Thanks for the amazing content!
How can I find a new niche which is help me to learn money minimum $100 per day. Do you have any idea to share to me
Hi Salu,
Just read through this post and all our other free content! It will give you ideas so you can begin selling. You will need to do more research on your own to ensure it is a good niche you are getting into.
Brian
Hello there, I have a question:
With the Top 5 sellers in the list, regarding your rule, with one seller below 50 reviews and in the Top 10 with a few sellers below 50 to 100 reviews? How do you deal with those sponsored items for your research? I know that sometimes the sponsored ones show up on the first page anyway and sometimes they don't.
Just look at the organic results. As you said, the sponsored posts will frequently change.
Thank you for every other informative website.
The place else may just I get that kind of info written in such
an ideal way? I've a undertaking that I'm just now operating on, and I have been at the look out for such info.
Hi,
I am not sure I understand your question! Can you please rephrase?
Hi Greg – the 1000+ niche link doesn't appear to be working on this post, can you help at all?
Hi Kirsty,
Try this link here: https://www.junglescout.com/jungle-scout-top-10000-product-ideas-for-amazon-sellers/?utm_source=jsblog&utm_medium=blogpage
thank you so much for sharing this awesome information, Its very helpful for finding the best profitable niche from this list. thank you.
I downloaded amazon niche list and in that so many categories, you have given like clothing, toys, games, health, kitchen, garden and much more.I am impressed by the generous information given on keyword research and niches.Thank you for sharing this amazing and huge list. It will help for bloggers.
You can also start by searching broad niches on google trends and look for products or keywords associated with a possible product in that specific niche. Like Laboratory Accessories and flasks come up or weird names for laboratory needs, then you go to Jungle Scout and scout it out with the extension. Easy…
Awesome post! Lots of good amazon niches.
great content and great post very useful
Thank you for the great content. I appreciate it.
It is good to start amazon US in 2019?
We think so! Check out the cost to get started in 2019 here.
Good luck 🙂
Hey , Great article thanks for sharing. Now I will decide a perfect amazon niche to work on.
I downloaded amazon niche list and in that so many categories, you have given like clothing, toys, games, health, kitchen, garden and much more.I am impressed by the generous information given on keyword research and niches.Thank you for sharing this amazing and huge list. It will help for bloggers.
Hey,
High content, powerful techniques I enjoyed.
Thanks,
Its very helpful for finding the profitable niche from this list. Very detailed article. Thanks for help with this article.
Нeⅼlo, I enjoy reading all of youг article post.
I wanted to ᴡrite a little comment tօ support үou.
The weirdness (wealth) that's WC is annoying.
I downloaded amazon niche list and in that so many categories, you have given like clothing, toys, games, health, kitchen, garden and much more.I am impressed by the generous information given on keyword research and niches.Thank you for sharing this amazing and huge list. It will help for bloggers.
I go to see everyday some sites and information sites to read articles, except
this blog gives feature based posts.
whoah this blog is magnificent i love reading your posts.
Keep up the great work! You know, a lot of persons are looking round for
this info, you could aid them greatly.
Hello, I would like to subscribe for this blog to get most
recent updates, so where can i do it please help.
Hey,
I downloaded amazon niche list and in that so many categories, you have given like clothing, toys, games, health, kitchen, garden and much more.I am impressed by the generous information given on keyword research and niches.Thank you for sharing this amazing and huge list. It will help for bloggers.
Hey guys,
Honestly, i am impressed by the generous information given on keyword research and niches. There are courses out there teaching such stuff a few grams.
I am just thinking out loud. What would the outcome be if we do kW research first and followed by amazon data?
Hey Dave,
Thank you very much for your candid reply. We found that when we tracked our products with Product Tracker, the data is closer to our real situation.
However, when tracking our competitors, we found that the data of Product Tracker and Chrome Extension are not the same. Why is this?
Thanks for your comments.
I like your products very much, bought and used them to track our own sales on Amazon, but found that the data provided by your product does not match our actual sales.
How is this happening? What is the source of your data and why is it so different?
We have tracked some products with your product and are now going to launch.
Now it's a bit worried about this data!
Looking forward your reply!
Best regards,
Kevin
Hey Kevin!
Thanks so much for reaching out about this, as I understand how frustrating it can be when estimated sales appear to be off…particularly when comparing them to your own sales.
Because the data you see in Jungle Scout represent estimated sales for a given period, and not actual sales like you'll see in Seller Central for your ASINs, the estimates in Jungle Scout will vary across time. Seasonal trends, slower selling periods (such as Q1 and Q3) can also affect product sales estimates.
If you'd like to learn a little more about how Jungle Scout works, feel free to check out our page that explains the data-collection process: https://www.junglescout.com/accusales
Hopefully, that's helpful!
This post made it.
Thank you very much to share this information.
I know there are a lot of untapped niches out there that sellers will be finding gradually.
Also, I should add that keyword research is the best way to find hidden and yet profitable niches.
Nice post! Thanks for sharing, I want to know how can i get targeted traffic on my affiliate link
In the part where you say you would Google Brands that you are not sure about.
what exactly are you looking for? I found a potential product that does have a brand that is established, but their website is terrible and I believe there is room in the market for a new brand.
Joshua,
Just make sure you back it up with data. Sometimes, it can seem like there's not much in the market, but when your product actually hits the market tells you a whole other thing.
One of the best ways I ever saw total market share explained was by thinking of it like a giant pie and there's only ever that much pie to go around. When you look at the JS data, you aren't seeing a reflection of what you'll get. For example, if there's three sellers selling 300 units per month, if you join in, you're not going to get 300 per month… you're going to get 225 because your presence in the market has just reduced current demand by 25% for each of the current competitors. In the end, demand is only 900 units per month, regardless of how much supply there is. And in actuality, you're more likely to do less than that as you might only take away 5% away from current competitors, earning yourself 45 sales per month.
The best way to enter a market is to go after a niche and just attack the heck out of it. Make sure your project can stand on its own two legs, too. Simply copying-and-pasting what exists won't help you. It's got to stand out and solve a problem, too.
Hope that's helpful.
Hey,
I downloaded amazon niche list and in that so many categories, you have given like clothing, toys, games, health, kitchen, garden and much more.
Thank you for sharing this amazing and huge list. It will help for bloggers.
Hello there,
Thank you for the amazing guide. It is very easy to follow and thorough.
Sorry for the silly question but when you say 'sell on amazon' you are referring to affiliate marketing, right. Meaning that you are not actually selling the product but rather linking to it on Amazon?
Are all the products in your niche list available for download suitable for creating an affiliate marketing blog?
Hey Asen!
Nope, we mean sell on Amazon. Most of the products you find on Amazon are from, believe it or not, regular folks like you and me! In fact, that's what we here at Jungle Scout specialize in is showing people how to sell their own private label products on Amazon.
If you'd like to learn more about the process, check out this video here: https://www.junglescout.com/how-to-sell-on-amazon-fba/
We're also working on a more in-depth series for selling your own products on Amazon: https://www.junglescout.com/amazon-seller-genius/
All of this stuff is free.
Hi, I have four questions I would love to get an answer on before I can start selling on Amazon:
1) When gauging the competition in terms of reviews do you ignore the sponsored items at the very top in Jungle Scout? Regarding your rule with the Top 5 sellers in the list with one seller below 50 reviews and in the Top 10 with a few sellers below 50 to 100 reviews?
I know that sometimes the sponsored ones show up on the first page anyway. Sometimes they don't. How do you deal with those sponsored items for your research?
2) What does it mean when I found an item that is being sold looking very similar in terms of the actual product design and configuration across the whole first page with generally a high demand in JS and this continues to the search result pages 1-4. Is it a good idea to sell this item or a bad idea? Or does it mean nothing?
3) What does it mean if I found a good item by the numbers in JS but the prices on the first search result page are not exactly consistently 20 dollars. Most Items are lower and only a handful are $20.
4) In the scenario above what difference would it make if the items for 20 dollars are the ones making the most sales?
Hey David, Let me help answer those!
1. When gauging competition in terms of reviews you want to be looking at the top 10 sellers that come up organically, which you can quickly see using the JS Chrome Extension. The sponsored products are different, because any seller can bid on a search term and appear as a sponsored product in the Amazon search results (even products that just launched and have no reviews or sales yet).
However, you might also want to do a quick check in Amazon by searching for some keywords and seeing what sponsored ads to appear. This is a nice sense check to find out if any of your potential competitors are utilizing Amazon PPC or not.
2. This means that there's depth in the market, which isn's necessarily a bad thing in itself. When looking for demand, we always recommend taking the combined estimated sales of the top 10 products and ensuring that it is over 400 units, for example. If you find that there are 4 pages worth of the same product, then of course you can also take a look at how those products are performing to. One way to look at it is, you should always be aiming to be in the top 10 with any product you launch. So the top 10 sellers are your primary concern for gauging demand and competition. If you find there are lots of other sellers, you can also see if they are doing well or not and find out why that is. Ultimately you want to find ways to enter a niche with a product offering that is better: more features, better quality, a better listing, etc.
3. I've seen this with a lot of product ideas. Including one that I have launched myself, where some of my competitors are selling a similar item at a much lower price. It's useful to know this because if you are going to launch with a higher priced product then it needs to be a higher quality product and you need to be able to show that in the product listing. In my case, I am selling a higher end sleeping bag that has added features, better fabrics and more warmth than the budget versions.
4. Sometimes the lower priced items may shift more units, but the estimated revenue is not necessarily higher because the margins are much slimmer. So take a look into that too. If there are some higher priced / higher quality versions of the product in the top 10 that are also making good monthly sales, then it shows there is potentially a demand for both.
The $20 retail price is just a guide. Many sellers will sell items at a much lower price and go for lower margins but higher sales volumes. The main thing is to understand your profit calculations!
Make sure you head to our Million Dollar Case Study, you can follow along the whole process.
Kym
hi, thanks for the great article. once you have found a niche & a potential product to sell on amazon how would you recommend going about sourcing the products to sell?
Hi Florence,
Great question! The path most sellers take is to use alibaba.com to source their products. If you're not familiar with Alibaba, Alibaba is a website similar to Amazon (in fact it has a very similar layout) that connects business owners like yourself to manufacturers, wholesalers, and suppliers overseas, typically China and India.
Alibaba's been around nearly as long as Amazon and its put a lot of safeguards in place to protect its users including Trade Assurance (kinda like Amazon's A-to-Z Guarantee program), Alibaba EChecking (their version of PayPal), Gold Assessed and Third Party Assessed Suppliers, and information on profile age of the vendor.
The protocol I typically follow when sourcing a product is to head to the Alibaba's website and search for an item. Say that the product you've found is "fidget spinners"… I'll go and type in "fidget spinners" into the search bar. From there, multiple options will pop up. Many will even have images of products you've seen on Amazon!
After I find a product that looks similar to what I'm sourcing, I'll contact the vendor and send a letter asking questions about the product. Good questions to ask include price, quantity (there's usually a minimum order quantity you have to order), sample costs, what forms of payment that they accept, lead times, and more. For more information on how to communicate with an Alibaba vendor, we have a great article (with videos!) that you can check out: https://www.junglescout.com/blog/how-to-find-alibaba-suppliers/
The other way to find products on Alibaba is to submit what's called an "RFQ" or request-for-quote. Instead of doing a search, you submit a proposal for the type of product you're looking for and the vendors contact you with quotes, details, and more.
Often I will do a combination of both methods to get the best results.
Hope that's helpful! And definitely check out that article!
Good luck with you and please let us know if you have any further questions.
Wow… To be honest, Really awesome article
Thank you
I always thought affiliate marketing is the toughest thing to do . But anyhow I have started one niche site for affiliate marketing . I am learning new things about affiliate marketing. I think amazon is perfect for any marketer. I am using it but I have not made any sale . I am hoping for it. Thanks for sharing all the niches. Amazing post .
Smile
Hey Sunny,
You are right, building your own site, traffic and audience can be tough. But well done on making a start on your business and good luck for the future. Let us know how you get on 🙂
Kym
Just starting to educate myself and do the research to determine if this whole "selling on Amazon" thing is something I would want to pursue, so I'm as new and green as they come!! I have learned a tremendous amount already from reading your blogs and watching some of the videos and I just have to decide if purchasing the JS tools is the best route for me.
Two "dumb" questions- what is the difference between a seller on Amazon and an affiliate? I have seen this term affiliate being discussed, but not sure what it actually means-
And a more important question- if one follows the guidelines set forth by JS for picking the right product, lines up a manufacturing source and is ready to sell, how do you get your listing to pop up among the other sellers on the FIRST page when a buyer puts in a search on Amazon- Obviously having a great product wont help much if you are on page 6 when someone searches for that item!
Hey Mindi,
Welcome to the tribe 🙂
No question is a dumb question.
Affiliate marketing is where a business rewards an affiliate for each visitor or sale that was bought by the affiliates efforts. The Amazon Associates program works by allowing website owners and bloggers to advertise/share products on Amazon earn a referral fee when people click through to those products and purchase. So it means having your own website.
Selling products as a seller is obviously a lot different to this. We have wrote plenty of articles about how to launch your product effectively and Amazon SEO (climbing the rankings). Check out these resources:
http://www.junglescout.com/blog/amazon-product-launch-strategies
http://www.junglescout.com/blog/amazon-search-engine-optimization
http://www.junglescout.com/blog/amazon-listing-optimization
Thanks for reading and good luck on your journey
Kym
[…] our good friends at JS Jungle Scout  have come up with 1038 ways you can make money online. Yes you heard me right, so you better get […]
After six years on Amazon, many of my successes and failures were accomplished by trial and error.
Jungle Scout has given me confidence in adding new products and deleting ones that aren't the best fit.
Hey Alexis,
Thanks for the kind words, that's so exciting to hear!
Gen
Everyone loves what you guys are usually up too.
This type of clever work and exposure! Keep up the terrific works guys I've incorporated you guys to
our blogroll.
Reposting as I didn't see any answer to the earlier question:
I am confused about the keywords in the spreadsheet. For example, there is a keyword "oxford shoes for kids" that shows really low competition in the spreadsheet, but obviously there are many seller in there. So it would appear the data returned by junglescout is incorrect. Searching the same keyword on the web app returned same data as the spreadsheet, so it's not a spreadsheet problem. Any explanation for this?
Hi Atiful,
Sorry for the delayed reply…..
The metric of "low competition" is simply a proxy to determine how many reviews other sellers have for a given keyword. "oxford shoes for kids" can be a slightly challenging niche to pursue based on the variety of colors, styles, sizes, genders. hope this helps!
Gen
Hi..great post..I have red and made some references …. so if I can ask.for your advise how can I make money do I need a Web site or shall I just use amazon as an affiliate. .and another question how do I get paid..?
Do I need to apply for a PayPal account..in order for people to pay for products ?
Please.advise your help would be much appreciated. ..
Thanks
Elias
Hi Elias,
Once you find a niche, you could become an affiliate, or you could become an Amazon seller and sell physical products.
As a seller, you would get paid into your bank account. See here: https://www.amazon.co.uk/gp/help/customer/display.html/ref=hp_left_cn?ie=UTF8&nodeId=3149451
Here's more information about Amazon Associates: https://affiliate-program.amazon.com/
And about getting paid as an affiliate: https://affiliate-program.amazon.com/help/topic/t3/a2
There are numerous ways to make money from niches, as listed at the end of this post. We will be looking into these in more detail in future posts, so keep an eye out for that 🙂
Thanks for reading!
Kym
how come I have to enter my email address to download the list? and when I enter it , it says enter a valid email address… when it is the same one I used for the site, and it IS a valid address. so I can't download the list. and why do I have to enter my email anyway… ??? just let me download it.
Hey Kevin,
Sorry for any issues accessing the list. I sent you an email so that you could access the list, please let me know if it did not get to you!
best,
Gen
This is one big email. Thanks
Kiwi Jim
Thanks for stopping by 🙂
Thanks for the list. It will be great if you can explain to us what the number means in each column.
a. competition? the bigger number the more competition?
b. list quality? the bigger number the better?
c. opportunity score? the bigger number the better?
Hey there,
No problem, thanks for reading. Great question, let me clarify for you, but you were on the right lines here:
A) Competition is calculated based on an algorithm factoring the number of reviews in the top 10 listings. A high score represents high competition, and a low score represents a better opportunity for sellers. (Scores from 1-10)
B) Listing quality is based on algorithm that factors in things like the title, keywords, photos and bullet points in the top 10 listings. Ideally you want to find niches where listing quality is low (so yours can be much better). Here, a lower number signifies poorer quality listings and more opportunity, and a higher number shows higher quality listings in this niche.
C) The opportunity score is an aggregate factoring in demand, competition and listing quality. You are right, the higher the score, the more opportunity for sellers 🙂 A lower score could mean low demand, high competition or a combination of these things.
Hope that helps – thanks for asking such a great question.
Kym!
Your email address will not be published. Required fields are marked *




document.getElementById( "ak_js_1" ).setAttribute( "value", ( new Date() ).getTime() );
Need help?
Visit our Help Center
Products
Solutions
Features
Resources
Support and Community
Company
Copyright 2022. All Rights Reserved